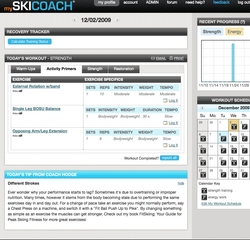 Fitter, healthier skiers are happier skiers, who ski longer and harder
Durham, NC (PRWEB) December 29, 2009
FitSkiing.com today announced a major addition to its health and fitness website; this new software application, My Ski Coach creates a unique ski fitness plan for skiers based upon their individual profile.  Many skiers plan their ski outings wondering how they can improve their skiing before they hit the slopes.  The Solution: My Ski Coach.  This unique ski specific fitness application creates unique training plans that help skiers improve performance, prevent injuries and increase their skiing longevity.
Strength Coach and Creator, Andrew Hooge explains, "we've spent the last 2 years developing and fine tuning My Ski Coach.  It takes many factors into account before it creates a skiers individualized training plan.  Our software analyzes their fitness and health history as well as their skiing frequency and ability level.  Whether they are a recreational skier or big mountain expert, My SkiCoach makes sure they get the best workout program for their specific goals and fitness level."
At the heart of the My Ski Coach training system is Coach Hooge's four-phased approach to improving a skier's performance. It is a blend of four separate phases (periods) that includes exercises designed to improve a skier's base level of conditioning, power endurance, strength, and preventing injuries.  In addition, My Ski Coach's unique technology analyzes a number of specific metrics and based on the skiers completed workouts provides a chart that show's how they are progressing.
In addition to offering customized fitness plans, My Ski Coach also provides skiers with video instruction on how to perform ski specific exercises as well as a tips on health, fitness and safety. Currently, skiers can try My Ski Coach FREE for 10 days.
 
New interactive tools designed to help skiers integrate Coach Hooge's proven approach include:
 
·        Customized ski workouts based on a users unique profile, goals and health/fitness history.
·        Recovery Tracker that helps skiers prevent overtraining.
·        Health, fitness and safety tips to keep skiers on top of their game and the slopes.  
·        Progress Tracker that analyzes three separate metrics to track skiers progress.
·        Progressive, periodized training plan that provides a year round fitness program.
FitSkiing.com is operated by Active Outside, Inc. and publishes My SkiCoach within its network of Web sites offering expert guidance and daily tools to help outdoor sports enthusiasts improve performance, prevent injuries and increase their fitness longevity.
 
"Fitter, healthier skiers are happier skiers, who ski longer and harder," says Andrew Hooge. "Having a structured, personalized strength and conditioning plan is key to preventing injuries and improving ski performance.  My goal is to make sure every skier performs better and has a safer experience on the slopes.  Stein Erikson and Claus Obermyer are shining examples that if we keep fit and healthy we can ski into our 80's and beyond.
 
About Andrew Hooge
With over 15 years of experience, Andrew draws from his diverse training background to combine his knowledge of skiing, strength and conditioning, and public health in his approach to getting skiers fit and healthy for the slopes.  He has incorporated his skiing fitness philosophy - the combination of balance, strength, endurance and safety - into his well-received book, FitSkiing…Your Guide for Peak Skiing Fitness (2nd edition, 2006).
He has appeared on NBC and CBS, and has been prominently featured as an expert in Ski Magazine, The Washington Post, L.A. Times, and many other publications.  He is a Certified Strength and Conditioning Specialist with the National Strength and Conditioning Association, holds a B.S. Degree in Sport and Exercise Science and has advanced graduate training in Public Health from the University of North Carolina-Chapel Hill. 
About FitSkiing.com
FitSkiing.com provides skiers with the latest, cutting edge health and fitness information, tools, and advice so they can ski longer and play harder. We are dedicated to promoting longevity within the sport, advancing skier skill levels, and helping snow sports enthusiasts find the gear best suited to help them improve their day both on and off the slopes.
Press Contacts:
 
Adam Schultz
Bold Interactive
919-354-5031
Andrew Hooge
Active Outside, Inc.
919-381-6273
# # #