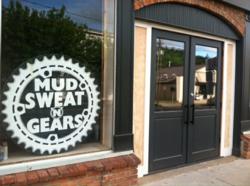 "Our ski and snowboard customers respect the importance of sustainability. We like to think this new store will strike a chord with the environmentally conscious consumer."
Ellicottville, NY (PRWEB) December 11, 2012
While aesthetically diverse, the new store delivers on technological advances within the ski and snowboard industry as well as overall product. As part of the move, customers will see expanded offerings and services – hallmark characteristics of the Mud, Sweat n' Gears shopping experience. The additional square feet of functional retail space allows for a fully outfitted high performance demo and rental center, new outerwear and lifestyle brands, as well as convenient off street parking.
Before relocating to the historic Marketplace Building at 18 Monroe Street, in the heart of Ellicottville, NY, Mud, Sweat n' Gears made the decision to invest in building choices that paid homage to the outdoors. Extensive restoration and renovation plans married the old with the new, creating a contemporary, yet rustic aesthetic. This approach is called 'conscious construction' and is identified as one of the top trends and techniques for 2012 in visual merchandising [Action Outdoor & Bike Magazine]. According to Reggie Medford of Grand + Benedicts (Portland, OR), "People are using more natural, recyclable, renewable types of materials in their stores."
Azcarate and Reading recognized this trend and took it a step further. With the assistance of Phil Vogt Construction and the hard working Mud, Sweat n' Gears staff, they created a retail showplace like no other. The local area was scoured for materials that fit their vision. "We wanted to reclaim, recycle and repurpose as many materials as we could, " says Reading. "Our customers respect the environment and the importance of sustainability. We like to think our choices will strike a chord with the environmentally conscious consumer." You won't find common finishes here; rather you'll discover unique and unexpected items such as the turquoise antler chandeliers, repurposed furniture, rusted corrugated metal light fixtures, aged barn board and rough sawn hardwood that create an eclectic and diverse aesthetic.
A highlight of the facility is the new Speed Factory - a new tuning and service center that features the finest, most innovative tuning machinery from Montana of Switzerland. The investment in new machinery validates Mud, Sweat n' Gears commitment to servicing the customer from start to finish. The Speed Factory caters to competitive skiers, along with recreational skiers and snowboarders in search of a quality tune that enhances their skiing and riding. Even the counter of the Speed Factory reflects the conscious construction approach – utilizing reclaimed wood from an old chalet that was previously owned by the family.
Miguel and Kim love what they do and this new store allows them to provide their customers with the best ski and snowboard gear in the industry: Rossignol, Volkl, Nordica, Head, Fischer, Blizzard, Elan, Dalbello, Tecnica, Marker, Burton, K2, Ride, Rossignol Snowboards, Rome, DC, Giro, Smith, Bern, POC, Uvex, Oakley, Anon, Scott, Space Craft, Dakine, Coal, Pistil, Nomis, Grenade, Oakley Outerwear, Analog, Arc'teryx, Marmot, DNA, Marker Ltd., Orage, Spyder, Lole, Karbon, Rossignol Technical Outerwear, Obermeyer, Neve, Swix, Salomon, Smartwool and so much more!
A grand opening celebration is scheduled for Saturday, December 15, 2012 at Mud, Sweat n' Gears located at 18 Monroe Street in the heart of Ellicottville, NY. Skiers, snowboarders, industry reps, dignitaries, media and the community will be welcomed to the new deluxe location as part of the Grand Opening Celebration & Holiday Open House, sponsored by Philip Vogt General Contracting, Carlsberg and Spyder, and featuring a casual open house starting at 8 a.m. and running throughout the day, as well as a party in the evening from 7 to 9 p.m. A "Great Gear Give-Away" will take place at 8 p.m. – a random drawing to win really cool merchandise – no purchase necessary! In the words of owners Miguel and Kim….think snow!
This store is serious about skiing and snowboarding. It's no surprise given the background of the two owners. The husband and wife team of Miguel Azcarate and Kimberly Reading have been intertwined in the local Ellicottville, NY community and ski industry for many years and built their business around the sport and lifestyle they love. After 12 years in business, the two still maintain the same level of enthusiasm and energy as the day they started. In fact – this move is a coming home 'party' – their first retail space was at this location on 18 Monroe Street with 1,385 square feet. In 2000 they moved to 21 Washington Street with 2,950 square feet and have now moved back home to 18 Monroe Street, taking over the entire building and offering customers 4,900 square feet of retail and ski/snowboard expertise.