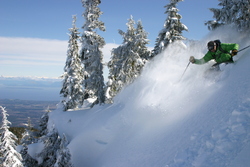 With unparallelled tutorial from some of Canada's highest qualified coaches and mountain guides, students will get to experience the freedom of being able to tackle any terrain in any conditions.
Courtenay, BC (PRWEB) July 19, 2009
Vancouver Island, just off Canada's rugged west coast is the destination for an adventurous group of individuals this coming winter. It is one of the few places in the world where it is possible to ski one day and surf the next, and it also happens to be home to Section 8 Snowsport Institute, a young Canadian company serving up a brand new style of ski and snowboard instructor course called the Snowsport Leadership Training program. This comprehensive new course taking place over 12 intensive weeks aims to be the ultimate education for aspiring ski and snowboard professionals, or anyone else looking to give a serious boost to their snow riding skills.
For the freshly graduated, who are not quite ready for that desk job... or perhaps, for those who are already driving a desk but long for an escape into the mountains, becoming a ski or snowboard professional just may be the answer. "Admittedly, a career in the mountains is not the most lucrative option," states Tobin Leopkey, Section 8's Program Director, "but the lifestyle could not be any richer." He mentions this from a position of experience, as a CSIA level 4 with many years as a ski instructor and trainer to instructors at resorts around the world. "My clients are doctors, lawyers and bankers who feverishly work the nine to five all year round, then at the first opportunity, they rush off to come live my life for a week. I don't blame them for being jealous. My office is unique. It's covered in North America's deepest snow-pack and has stunning 360 degree views of Canada's coastal mountains and the Pacific Ocean. They further envy my constant endorphin high, as a result of manipulating some of the finer physical forces on a daily basis... gravity being my favourite."
Tobin originally grew up skiing the steep and deep tree lines on the Island but had spent most of his teaching career in Whistler and various other resorts. He became disillusioned by the typical training of instructors and the narrow skill set that resulted so he set out to develop a course that would create more well rounded professionals. With the varied terrain at Mount Washington Resort and huge variety of other outdoor adventures to be had, he decided his home turf of Vancouver Island was the perfect location. He joined forces with Mike Bray, CASI level 4 snowboard instructor and British Columbia's Representative for CASI's technical committee, and Section 8 Snowsport Institute was born. "While there are plenty of ski instructor courses and snowboard instructor courses that teach you how to look pretty on a groomed slope... this course will teach you the fastest line down a race course, how to tear up the terrain park, how to charge the off-piste steeps, how to safely explore the backcountry and everything in between," says Leopkey. "With unparallelled tutorial from some of Canada's highest qualified coaches and mountain guides, students will get to experience the freedom of being able to tackle any terrain in any conditions."
Aside from drastically improving their skiing and riding, students on the "SLT" are also trained to become great teachers and will develop leadership skills that are transferable not only to the snowsport industry, but to many aspects of life. These "soft skills" are learned in the field, supplemented with evening workshops and put into practise shadowing the local snow school. Students do not come away empty handed either. SLT graduates earn a stack of internationally respected certifications to bolster their resume including; Canadian Ski Instructors Alliance or Canadian Association of Snowboard Instructors Levels 1 and 2, Terrain Park certification, Avalanche Safety Training levels 1 and 2 as well as a 40hr Wilderness First Aid certification.
For those short on time, Section 8 also offers a 4 week introductory course known as "Basic Training" which served as a test piece for the longer SLT course last season.
So the challenge is out. For the brave, who want to make a career out of their passion or for others just looking to learn some new skills on an extended holiday, Section 8 Snowsport Institute courses promise to make for an invaluable life changing experience.
# # #