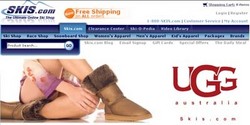 Skiers naturally gravitate to Ugg boots
Bloomfield Hills, MI (PRWEB) October 9, 2008
Ugg boots are a marvel of modern fashion, expanding far beyond their Australian birthplace to dominate fashion footwear throughout North America and Europe. Popular for decades in their native land, the sheepskin boots took the world by storm in the last few years. Now, online ski shop Skis.com is proud to have increased its selection to feature the entire collection at highly competitive prices.
Ugg boots first gained notoriety among Australian surfers in the 1970s. The surfers found them both fashionable and comfortable for times when they were not catching waves off the coast of Australia. This trend eventually expanded to American surfers and then to the mainstream of American fashion after being spotted on the feet of celebrities like Pamela Anderson, Reese Witherspoon and Jennifer Aniston. Skiers soon learned that Ugg boots were perfect for keeping their feet warm after a long day on the mountain, and the boots began selling faster at ski resorts around the world than they ever did in surf shops.
"Skiers naturally gravitate to Ugg boots," said Skis.com owner Steve Kopitz. "The boots provide wearers the ultimate in durability and comfort while still allowing them to express their personal style."
The popularity of Ugg boots among skiers helped the brand to expand to include other fashions like slippers, hats and handbags. Kopitz noted that Ugg's non-boot products attracted a great deal of attention in his online ski shop.
"Many people are familiar with the most classic style of Ugg boots, but there are dozens of different styles for men, women, and children," explains Kopitz. "Skis.com is proud to carry the full product line of Ugg footwear for shoppers seeking the same luxury and comfort that made Ugg boots famous."
Skis.com's rise in prominence within the ski wear industry is due in part to its sophisticated product filtering system. The site allows shoppers to narrow their searches in multiple categories while significantly reducing the amount of time spent sorting and comparing ski gear and ski wear across online retailers.
To learn more about the latest products and best deals in ski wear and equipment, please visit Skis.com.
About Skis.com:
Skis.com is an online ski shop and resource offering an enormous selection of skis, ski boots, apparel, racing ski equipment, snowboarding gear and accessories for all varieties of snow sports. Its collection includes major brand names such as Oakley, Spyder, Descente, The North Face, Tecnica, Rossignol, Volkl and Salomon. Visitors to Skis.com also can consult its Ski-O-Pedia for complete answers and information on fitting, comparing and selecting skiing equipment.
###