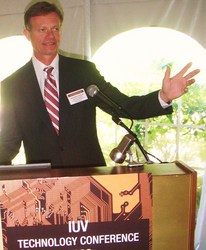 As in politics, all business is local. We sell in North America and Europe and are opening Latin and South America, the MidEast and Asian markets. We think global and act local.
Chicago, IL (PRWEB) September 18, 2008
Petter M. Etholm, President and Chief Executive Officer of Thomas Equipment, Inc., producers of Thomas Skid Steer Loaders, addressed the Industrial Utility Vehicle Technology (IUV) Conference about Thomas' niche marketing strategy and focus on basics as it expands.
Etholm discussed lessons Thomas confirmed rebuilding from difficulties in past years. The conference was hosted by Industrial Utility Vehicle & Mobile Equipment Magazine.
Etholm joined Thomas last year as President and CEO and this year was named Chairman and CEO of Thomas' parent company, Osiris Corporation (OSRS).
"Thomas is a niche player in the growing skid steer loaders market and serves industries from construction to mining and agriculture to landscaping. Thomas Skid Steer Loaders' reputation has been the cornerstone of its success for decades and today is pivotal to its growth," he said.
Brian Barton, General Manager and Vice President of Operations at Thomas Equipment, participated in discussions following Etholm's remarks to executives at the IUV Conference.
Etholm shared with IUV Conference attendees his Ten Lessons Vital to Business Success:
1: Care for Employees
Fatigue may set in when employees feel unappreciated, and have an impact on performance. Initiate group meetings to instill pride, enthusiasm, energy and mutual respect.
2: Care for Customers
When customer care slips, business falls, but when it is strong, business can prosper. Taking care of your customer is your number one job. Good customer care Thomas improved spare parts order fulfillment rates from a few days down to just 24 hours for 95% of orders.
3: Re-read Lessons 1 and 2
Etholm's Golden Rule is: "If you take good care of your employees, your employees will take good care of your customers, and your customers will take good care of your business."
4: Manage Brand & Communicate
"A company in trouble finds more. Manage your message and brand identity or competitors will and your image will decline. Good companies promote brands, not simply ride them."
5: Build Dealer Partnerships
Arms-length relationships with dealers don't work. Get out into the field, institute town hall-type meetings; listen and learn. Product dealers are under-utilized information sources.
6: Maintain Top Quality
"Managed well, quality products survive and thrive." Thomas entered a production pact with units of Singapore Technologies, a global company, with Thomas supervising all production.
7: Price Right to Reflect Values
You'll have fewer loses handing out $1,000 bills on street corners than to sell your products at a loss. Thomas raised and also had an increase in unit sales, based on product quality. You can't battle industry leaders on the basis of price, but you can with quality of product and service.
8: Market Niche Strategy
Thomas is a niche player in an industry of giants. "David and Goliath stories are great, but as a strategy I don't recommend it. A niche market approach helps Thomas meet its sales goals."
9: Financing is Key
Good people and quality products are vital to success but without adequate financing business will fail, said Etholm. Thomas assists Dealers worldwide to gain financing at attractive terms.
10: Think Global, Act Local
"As in politics, all business is local. We sell in North America and Europe and are opening Latin and South America, the MidEast and Asian markets. We think global and act local."
Thomas Equipment is online at http://www.thomasloaders.com, where farmers can learn more about Thomas Skid Steer Loaders. Thomas Equipment Inc. is a unit of Osiris Corporation (OSRS), http://www.osiriscorp.net, which provides a variety of branded and other products to industrial markets through subsidiaries including: Thomas Equipment Inc.; Thomas Equipment Asia Co. Ltd.; Thomas Ventures, Inc., Pneutech-Rousseau, Inc. and TcomT Inc. Osiris' units manufacture and market industrial and construction equipment, distribute pneumatic and hydraulic systems and design wireless devices for the telecommunications industry, among other activities.
Safe Harbor Statement
Under the Private Securities Litigation Act of 1995 -- This press release discusses forward-looking statements with risks and uncertainties. OSRS results could differ materially due to various factors, including inability to finance operations or expansion and hire or retain personnel, economy and interest rate changes, and events such as terrorism. OSRS believes statements to be reasonable, but neither OSRS nor any other person can represent they will be achieved. OSRS is not obligated to update statements due to new information, events or otherwise. Please see the risk factors associated with our Company and review our SEC filings.
# # #