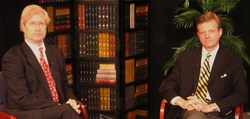 Customer service and product quality are vital to success in any business. You need great management and good financing, but the make-or-break elements are product and service
Hartford, CT (PRWEB) May 2, 2008
Thomas Equipment President and Chief Executive Officer, Petter M. Etholm, appearing on TV's "The Business Buzz," said the market for Thomas Skid Steer Loaders is expanding with a global strategy coupled with local market focus.
Etholm said, "Thomas is keying to product quality, for which Thomas Skid Steer Loaders are famous." Thomas product and company information are online at http://www.thomasloaders.com.
Etholm, who joined the 65-year-old Thomas as CEO last year, said, "We are returning Thomas to its core market focus. We are getting back to basics, strengthening the sales team, building the Thomas Dealer network and focusing on maintaining top product quality and customer service."
Also President and CEO of Thomas' parent company, Osiris Corporation (OSRS), Etholm spoke about his entrepreneurial background and experience building companies in several industries.
Etholm, born in Norway, built businesses in Europe, Australia and the USA. "I worked in retail and learned all business is local. Thomas focus locally as it expands globally," he said. In recent years, he became President of a small chain that he built into America's top growing card and gift franchise, Cardsmart. Earlier, as Chief Operating Officer, he led rebuilding of the diet food firm, NutriSystems.
"Customer service and product quality are vital to success in any business. You need great management and good financing, but the make-or-break elements are product and service," he said.
Etholm added, "Communicating clearly and consistently is vital since rumors swirl when difficulties arise and competitors seize opportunities to gain market share. We meet rumors with facts and clarify misunderstandings with messages of Thomas' skid steer loader products and direction. Market reaction is encouraging."
He said, "Thomas' North American base of operations is once again expanding and Thomas Skid Steer Loaders are developing a strong following in Europe. We are also making inroads to markets in the Latin and South America, the Middle East and Asia, including China."
In the television show scheduled to air June 7th on the Comcast Cable TV Network in various markets, host Jeff Sherman asked him to discuss brand building and product pricing when a company is in turnaround. "The Business Buzz" is produced by Nutmeg TV in Connecticut.
Etholm said, "We keep it simple. We produce skid steer loaders that many consider to be the best in the business. Our skid steers are as tough and dependable as the hard working operators who use them to earn an honest day's pay for an honest day's work. We expect the same."
"Thomas is taking systematic steps to reclaim its place in the thriving skid steer loader market," Etholm said. "With markets from North America to Europe, inroads in Latin and South America and business in Australia with potential in Asia, we are instituting a global strategy and local market initiatives."
Recently, Etholm led Thomas to an agreement with a unit of major global company, Singapore Technologies Engineering. STE's China-based subsidiary, Guizhou Jonyang Kinetics, will produce Thomas skid steer products under the on-site supervision of production, engineering and quality control executives from Thomas' Centreville, New Brunswick headquarters. The alignment offers Thomas a strong partner to help develop Asian markets.
Thomas is socially responsible and committed to its Centreville, New Brunswick base, where its headquarters will remain. He said Thomas is working to have its plant there provide early support for Thomas and to develop ownership that will operate the plant and retaining production jobs.
Safe Harbor Statement
Under the Private Securities Litigation Act of 1995 - This press release discusses forward-looking statements with risks and uncertainties. OSRS results could differ materially due to various factors, including inability to finance operations or expansion and hire or retain personnel, economy and interest rate changes, and events such as terrorism. OSRS believes statements to be reasonable, but neither OSRS nor any other person can represent they will be achieved. OSRS is not obligated to update statements due to new information, events or otherwise. Please see the risk factors associated with our Company and review our SEC filings.
About Thomas Equipment
Thomas Equipment, Inc. is a unit of Osiris Corporation (OSRS.PK), online at http://www.osiriscorp.net, which provides a variety of branded and other products to industrial markets through subsidiaries including: Thomas Equipment 2004, Inc.; Thomas Equipment Asia Co. Ltd.; Thomas Ventures, Inc., and Pneutech, Inc. The operating subsidiaries, located in Canada, Europe, and Asia, manufacture and market industrial and construction equipment, distribute pneumatic and hydraulic systems and design wireless devices for the telecommunications industry, among other activities. For Thomas Skid Steer Loader information, visit http://www.thomasloaders.com.