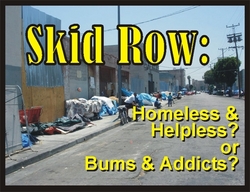 Los Angeles, CA (PRWEB) March 20, 2008
Are Skid Row street vagrants merely homeless or are they criminal drug addicts who choose to live lawlessly on the streets? Full Disclosure Network® is releasing a new two-part cable TV series covering the on-going debate over how to deal with the residents of the infamous Skid Row area of downtown Los Angeles. The series will debut on Sunday, March 23, 2008 at 8 p.m. on L.A. Cable Channel 36 and 44 other cable channels and the Internet.
At the center of the debate is whether or not the LAPD's "Safer Cities Initiative" has been successful or is an improper use of public resources when dealing with vagrants living on the streets. Watch a nine minute video preview here: http://www.fulldisclosure.net/Programs/509.php
The series features prominent national and local authorities who hold strongly differing opinions, many of whom participated a January 2008 Forum entitled "Policing Skid Row" sponsored by the New York based Manhattan Institute and the Santa Monica based Milken Institute. Those experts appearing in the series are:

William Bratton, Los Angeles Police Chief
Hon. Edwin Meese III, former U.S. Attorney General & Chief of Staff to Calif. Governor Reagan
Torie Osborn, Sr. Advisor on Homeless to Mayor Antonio Villaraigosa
James Q. Wilson, Manhattan Institute & Pepperdine University School of Public Policy
George L. Kelling, Sr. Fellow Manhattan Institute & Prof. of Criminal Justice at Rutgers
Estela Lopez, Executive Director, Central City East Association
Heather Mac Donald, Manhattan Institute's John Olin Fellow
Carol Wilkins, Director for Intergovernmental policy for Corporation for Supportive Housing
Leroy Baca, Los Angeles County Sheriff
Prof. Mark Kleiman, UCLA School of Public Affairs
Leslie Dutton: Host/Moderator
This Full Disclosure Network® on-going series examines the various solutions proposed to deal with violent and non-violent street crimes, drugs and alcohol addiction as well as mental illness among the vagrant population. These programs are featured on 45 cable systems with channel listings here with the previews available on the Internet free from the website at http://www.fulldisclosure.net. Full length shows are also available on DVD and to subscribers online.
Known as THE NEWS BEHIND THE NEWS since 1992, Full Disclosure Network® is produced by Emmy Award winning host Leslie Dutton and Producer T. J. Johnston. In 2002 a Full Disclosure® special series was recognized by the Academy of Television Arts & Sciences with a local Emmy Award for a public affairs, informational series.
###