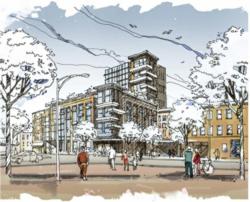 "Our experts compared affordability factors of most regions and came to unfortunate, but not surprising, conclusion that Moscow and Moscow region fall to the bottom of that list." – said Vladimir Skigin
(PRWEB) November 21, 2012
Even though morgage payments have become more affordable in 2011, they are still too expensive for the majority, concluded analitical department of Satellit Development. "Affordability factors mainly depend on the region of the purchase. Our experts compared affordability factors of most regions and came to unfortunate, but not surprising conclusion that Moscow and Moscow region fall to the bottom of that list." – said Vladimir Skigin.
Today, on the average, each Russian citizen occupies 250 square feet of leaving space. Within last 5-7 years the idea of mortgage in Russia is becoming more popular, and more Russians take on mortgages. By the beginning of 2012 total residential lending accounted for $50 billion, which is 3% of Russian GDP.
Based on the survey conducted by Satellit Development in the 24 regions with the worst affordability index, the average family with two working parents can only afford 450 square feet of housing and that's after putting a 20% down on a 20 year mortgage.
The most affordable regions were the oil-producing regions located in the North and Far-East of Russia. High income and relative low cost of housing due to the historic and geographic factors are what put those regions at advantage.
Moscow is an absolute "outsider" and the last city in this ranking. A family with an average income may acquire only about 300 square feet with the current mortgage rates and real estate prices. "A family with two working adults earning average wages cannot afford even one-room apartment. Even high salaries and fairly low mortgage rates, in Russian Capital, cannot solve the current housing problem." – commented Mr. Skigin.
About Satellit Development
Management Company "Satellite Development" LLC was established in 2008 and its main activities include: integrated land development, sale of land, development and design of residential and commercial projects, consulting and brokerage services.