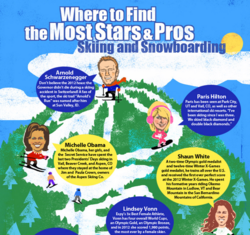 With illustrative graphics of V.I.P.s who ski, the skiing Infographic provides amusing details about the skiers and their favorite slopes.
Denver, Colorado (PRWEB) December 31, 2012
It doesn't take much to call yourself a skier or snowboarder—mainly a pair of skis, a mountain of snow, and the will to learn. Resorts like Breckenridge and Winter Park in Colorado or Heavenly near Lake Tahoe welcome all levels of skiers. They thrive on the revenue generated by thousands of tourists each ski season, are the locations of restaurants and bars for the Après Ski scene, and offer lodging options from five-star hotels to rustic cabins. Olympians who travel the world skiing and snowboarding on the most advanced terrain have their favorite spots, as do celebrities, who can often hide under ski goggles and a helmet and disappear for the day. If you are lucky though, you'll get to spot the Pitt-Jolie's in Vail, or newlyweds Justin Timberlake and Jessica Biel in Mammoth or Aspen. Ski Coupons has taken this information and compiled into a clever and fun Infographic http://www.skicoupons.com/ski-infographic.
With illustrative graphics of V.I.P.s who ski, the Infographic provides amusing details like where the ladies of the Obama family spent the last two President Day vacations, or where JT proposed to Jessica, or Secretary of State Hilary Clinton's home mountain as a child. There is even a section that mentions accidents of celebrities, bringing them down a little closer to our level by showing their mishaps. The Infographic also has an interesting section on the top snowboarders and skiers of the U.S Ski teams, their home mountains, and some of their prestigious rankings.
All in all, this fun Infographic by Ski Coupons shows that everyone can be a skier and those who have the access to skiing every day—like Lindsey Vonn who grew up near Vail or Bode Miller who skied Cannon Mountain as a child in New Hampshire—can train themselves into the best of the best. Even if you don't strive to be a top competitor, ski and snowboard vacations are for the whole family, and for the lucky ones who live near the mountains, it's a way of life.
About Ski Coupons
Ski Coupons, a subsidiary of Vacation Coupons, is in its 14th year as a leading online provider of discounts and deals for winter vacations across the U.S. and Canada. In addition to offering customers the best ski discounts, Ski Coupons supplies helpful information regarding ski resort areas, local restaurants, and ski vacation tips—giving families the best tool to book and save on their upcoming winter vacations.