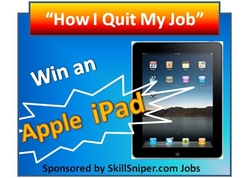 We were in the process of putting together details for a video contest about crazy ways people quit their jobs and then the Jet Blue incident happened.
Olathe, KS (Vocus) September 1, 2010
Searching for a job or a new career in the current economy can be stressful, especially with millions of unqualified resumes flooding the internet. SkillSniper.com is having a little fun and launching a new online video contest entitled "How I Quit My Job". It will feature contestants telling their stories about how they quit or left a previous job. "We were in the process of putting together details for a video contest about crazy ways people quit their jobs and then the Jet Blue incident happened," says Gary Hicks, founder and CEO of SkillSniper.com. "With this contest, we thought it would be fitting to award an honorary prize to Mr. Steven Slater of JetBlue Airways." Stephen Slater is the JetBlue flight attendant who recently encountered an unruly passenger, made a statement over the intercom saying he was quitting after 20 years of service, grabbed two beers and slid down the emergency chute and went home. "I have flown a lot and can certainly understand why flight attendants might get fed up with some passengers," Hicks said. "Hopefully Mr. Slater will throw a party for his friends with this prize, check out some of our video contest entries, and then sign up for a free job seeker account on our website." SkillSniper will gladly award the honorary prize in the form of any type of gift certificate if requested.
The contest is simple to enter. Entrants will submit short video clips up to one minute in length and tell their story of the craziest, funniest or most creative way they quit or left a previous job. In addition to the prize that Stephen Slater will receive, two other prize winners will be determined by the number of votes they get online. The first place submission will be awarded an iPad. In addition, anyone who doesn't have a video clip entry to submit can still get in on a random drawing and win a prize. For more information, including complete contest details, rules and prizes, visit the SkillSniper Facebook page or the blog on the SkillSniper website.
SkillSniper.com, Inc. is a U.S. based online business that provides new age employment matching services to employees, consultants, businesses and recruiters across the globe. SkillSniper's high powered skill-based matching technology can connect businesses and job seekers faster than ever before possible. This is accomplished by removing the main problem from the equation – job seeker resumes. What used to take employers and recruiters days to do with resumes, now only takes a few minutes to do on SkillSniper.com. To date, the company has received two rounds of funding based upon their innovative targeted matching technology and is growing rapidly. A robust database structure currently houses over 30,000 different job skills, certifications, software titles and state issued licenses for all U.S. states. The data spans across numerous industries and occupations and is systematically laid out to provide ease of use. To learn more, please visit SkillSniper.com.
Direct media requests to Gary Hicks, CEO
Please contact SkillSniper Support for all other requests
###