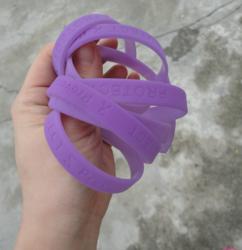 Eventually I had skin spots checked that turned out to be basel cell carcoma and even melanoma in situ. -- Ron Reimann, SupportStore president
Chicago, IL (PRWEB) May 31, 2013
Released this week, SupportStore's new "Skin Cancer Prevention UV Color Changing Wristband" is designed as an "always with you" reminder to be mindful when going outdoors this summer to prevent this most common form of cancer. The wristband is initially white but when worn outside, it turns degrees of purple with the debossed message "If purple - PROTECT - Prevent Skin Cancer."
The American Cancer Society reports that skin cancer (basal cell, squamous cell and the more serious Melanoma) accounts for nearly half of the cancers diagnosed in the United States. Taking preventative measures like wearing sunscreen, putting on a hat, wearing clothes that cover your skin and staying in the shade can help reduce damaging exposure.
While SupportStore honors many causes with its assortment of wristbands, ribbon magnets, lapel pins, ribbon applique stick-ons and more, skin cancer awareness is a cause that hits close to home. Three members of the staff are skin cancer survivors with company president, Ron Reimann, being one of them.
"I grew up with an outdoor lifestyle, and didn't realize what the cumulative sun exposure was doing to my skin. Eventually I had spots checked that turned out to be basel cell carcinoma and even melanoma in situ." Reimann continues, "we're expanding our assortment of skin cancer awareness products to help others be more aware of the danger and the importance of early detection and diagnosis."
The "Skin Cancer Prevention UV Color Changing Wristbands" are made of UV sensitive 100% silicon rubber and may be worn at the pool, the beach, or while doing outdoor activities of any kind. They are available in both 8" adult size and 7" youth size, individually packaged, and are available now for $2.50 each, with quantity discounts.
About SupportStore
SupportStore is an online only retailer of items people and businesses use to "shout out what they care about."
Customers choose from 500 in-stock items that ship same day. Customers can also choose to create a custom designed wristbands in quantities of 500 or more.
SupportStore's "products with a purpose" are low cost ways to help create awareness and raise money for causes that people care about most, primarily through:
--indoor/outdoor oval, circle and ribbon car magnets
--silicon rubber debossed wristbands
--metal lapel pins
--embroidered lapel ribbons
--clear vinyl static clings
With a total inventory of over 500,000 items, SupportStore can supply both consumer needs and businesses including dematologists, skin care clinics, hospital gift shops, and company events.
SupportStore is a registered trademark of ZapTel Corporation.