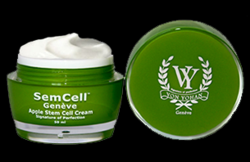 It's maintenance for the skin. I designed it as a natural moisturizer--it's not greasy--you can put your makeup on over it if you want. It also stops flaking and takes away redness. - Von Yohan
Los Angeles, CA (PRWEB) November 03, 2012
Premiere skin care and expert cosmetics maker Von Yohan has introduced two new products, SemCell Apple Stem Cell Cream and SemCell Lilac Acne Serum.
SemCell® Apple Stem Cell Cream is made with stem cells extracted from the apple blossom and the apple skin, designed to help with acne, rosacea, anti-aging, wrinkles, fine lines, collagen, sagging skin, and brown spots, for both oily, dry, and normal skin. This product also eliminates the need for separate day & night creams and eye creams.
SemCell® Lilac Acne Serum is made with lilac, a natural anti-inflammatory, anti-aging product, that helps with breakouts while moisturizing to prevent drying unlike other acne products.
Both new products are now available online at http://www.semcellskincare.com.
SemCell® Founder E. Von Yohan began developing Apple Stem Cell products over 4 years ago. "It's a very expensive product to manufacture, but I wanted to make it affordable enough for people to use." In early trials, about 380 people, many of whom were sufferers of adult acne, were given the Apple Stem Cell Cream. The response was very positive. "They were calling and saying; - 'It's the first time I've ever been out in public without makeup!' and ' This is the first and only product that has ever made such a dramatic difference!', so I am very happy with my Apple Stem Cell products," said Von Yohan.
Apple Stem Cell® Cream is also recommended for rejuvenating and lifting skin. "I designed it to rejuvenate the skin from the inside out, as the cream penetrates deep within the dermis to cleans and minimize pores and help lengthen the telomeres for healthier and more youthful skin," said Von Yohan. The Apple Stem Cell Cream is available as a cream or towelettes.
SemCell® Lilac Acne Serum helps with acne, by maintaining and deep cleansing the skin, while shrinking pores and naturally moisturize. Yet SemCell Lilac Acne Serum is non-greasy and light enough for you to put your makeup on over it. Unlike other acne products SemCell Lilac Acne Serum also stops flaking and reduces redness and dryness. Over 500 people initially tried Lilac Acne Serum, noting that it reduced both adult and teen acne. "Its engineered to make a lasting difference," said Von Yohan. Available as a serum and towelettes, Lilac Acne Serum is slated to debut in Teen Vogue, Allure, and Vanity Fair. Von Yohan® is passionate about It's SemCell® line which will be marketed in America, South America, Europe, The Middle East and Africa/Asia. Frustrated with the high cost of effective skin care and treatments, he believes everyone should be able to get the kind of skin care products they need at the best price. With effective products being more costly to manufacture, Von Yohan created the towelette package that can be sold at a lower price, while still very effective for both men & women.
Marketing and distribution by Fouts Ventures, http://www.foutsventures.com 1-800-277-5221