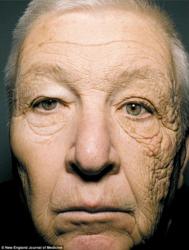 Dr. Hovsepian also recommends minimizing sun exposure, avoiding tobacco, and consistently monitoring one's own skin for any changes.
Beverly Hills, CA (PRWEB) June 15, 2012
For many, the arrival of summer means the promise of outdoor social events during longer days. Beverly Hills Plastic Surgeon Dr. Raffi Hovsepian, in preparation for summer and in response to a newly-released study of the affects of skin damaged by extended sunlight exposure, has recommendations for caring for your skin and protecting it from the elements and other hazards.
The study - "Unilateral Dermatoheliosis" by Jennifer R.S. Gordon, M.D., and Joaquin C. Brieva, M.D. - appears in The New England Journal of Medicine, Volume 366 (Issue 15). In the study, a subject is shown to have severely damaged skin on one side of his face due to sun exposure.
"The subject, a truck driver, spent many years with the sun hitting one side of his face while the other side stayed out of direct sunlight," summarizes Dr. Hovsepian. "Treatment of this condition, known as Dermatoheliosis, is tough.
"It is best," he continues, "to prevent worsening with the daily sunscreen of SPF 30 or more -- a sunscreen that should include protection from harmful UVA & UVB rays -- and then to treat the condition with a retinoid medication like Tretinoin (also known as Retin-A), moisturizer and gentle soap."
If a patient were to present in the condition of the subject of the study, Dr. Hovsepian notes that "there are few options to reverse this, but one could try different forms of laser therapy."
Among the laser therapies Dr. Hovsepian recommends for such an extreme condition in his Beverly Hills skin care cases are CO2 or fractionated CO2 lasers for skin resurfacing; Intermittent Pulse Light (IPL) therapy for lentigines, which are small pigmented spots on the skin; and Pulse Dye Lasers for telangiectasias, which are small dilated blood vessels that look like red spots usually about 1mm wide
"Depending upon the patient's condition, another alternative to consider may be fillers and BOTOX® Cosmetic," Dr. Hovsepian adds.
Dr. Hovsepian also notes that, whatever preventive and therapeutic options are chosen, all of these efforts are complemented by minimizing sun exposure, avoiding tobacco, and consistently monitoring one's own skin for any changes. "Learning from studies such as these is vital to maintaining proper skin health," he says. "This study reinforces what has been assumed about sun exposure and skin damage for quite some time, and combining prevention with common sense is always a good defense."
About Dr. Raffi Hovsepian
Dr. Hovsepian received a Bachelor in Science degree at the University of California, Irvine, where he graduated Magna Cum Laude. He then went to the prestigious Chicago Medical School where he earned his Doctor of Medicine degree and completed two Masters in Science, Pathology and Physiology; graduating in the top 10% of his class.
Prior to training in plastic surgery, Dr. Hovsepian completed his residency and was certified by the American Board of Surgery (ABS) in general surgery at the University of Nevada School of Medicine, Las Vegas, where he graduated as the Chief Resident. He completed his fellowship in plastic surgery at the world renowned Aesthetic & Plastic Surgery Institute at the University of California, Irvine School of Medicine. Prior to concluding his nine years of formal training, Dr. Hovsepian completed subspecialty fellowships in aesthetic surgery of the nose, face, breast and body.
For more details on Dr. Hovsepian's scope of expertise please visit his website at http://www.RHMD.com.