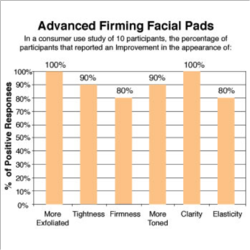 The results of this study reveal how remarkably effective science-based skin care can be in achieving unprecedented, visible changes in all types of skin.
- Dr. Adrienne Denese
New York, NY (PRWEB) April 18, 2012
Dr. Denese, an internationally recognized brand of scientifically formulated skin care products, has released the first results of their recent science-based skin care studies.
The first product tested was the Advanced Firming Facial Pads, of which over one million units have been sold over the past 4 years. This innovative product was designed to deliver a profound firming effect and to address dull, lackluster, or uneven skin tone, lack of radiance and firmness, large pores, fine lines and wrinkles. The results of this study were dramatic, with 80% reporting more firmness and elasticity in their skin, 90% experiencing more toned, firm skin and 100% proclaiming a clearer, more exfoliated look.
The clinical studies, which were conducted on 10 consumer participants, involved the application and use of five of Dr. Denese's most popular products and measured the impact these products had on such skin problems as fine lines, wrinkles, dryness, under eye puffiness and overall look, feel and texture. The results revealed a significant improvement in nearly all of these areas, with most products receiving reports of 100% improvement from all participants.
The Dr. Denese line of skin care products was developed and is marketed by SkinScience Labs, Inc., which was founded by Dr. Adrienne Denese in 2001. This award-winning skin care line was developed using the most advanced, clinically proven active ingredients in precise, clinically effective percentages, and designed to deliver visible improvement in the appearance of lines, wrinkles, firmness and pore size, as well as noticeable enhancement in tone and clarity of the skin.
"I spent more than 15 years researching and developing my skin care products, based on the theory that the only true way to combat aging is to understand how it works at the molecular and cellular level," commented company founder, Dr. Adrienne Denese. "By drawing on the medical breakthroughs of the last few decades, which include new treatments and potent new ingredients, you can repair and rejuvenate your skin and look younger without the need for costly or dangerous plastic surgery. The results of this study reveal how remarkably effective science-based skin care can be in achieving unprecedented, visible changes in all types of skin. Simply put, the numbers don't lie."
All of the Dr. Denese products were developed to be used as part of a specially designed, 6-step science-based skin care regimen, which includes cleansing, exfoliation, stimulating, building, sealing and protecting as a path to achieving the healthiest skin possible.
###
About Dr. Denese
Dr. Adrienne Denese completed her post-doctoral fellowship at Harvard University with a medical specialty in anti-aging medicine. Her company, SkinScience Labs, Inc., and its exclusive line of scientifically developed skin care products, has become one of the largest and fastest growing privately owned businesses in the anti-aging and skin treatment markets. SkinScience Labs, Inc. develops, markets and distributes premium professional skin care products under the highly successful and internationally recognized Dr. Denese® brand. To learn more about Dr. Denese or to purchase her skin care products please visit http://www.drdenese.com/.