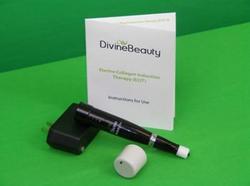 The RejuvaStamp Digital helps with Acne Scars, Stretch Marks, and Wrinkles
Santa Fe, NM (Vocus) July 26, 2009
The RejuvaStamp Digital "Electro Collagen Induction Therapy" (ECIT) Device, or "Needling" is promised to be the future in skin rejuvenation. This procedure is as effective as laser resurfacing, dermabrasions and chemical peels, but without the side effects. ECIT is a viable alternative to facial surgery and injections. It is a safe non-ablative procedure that works from the inside and out. The RejuvaStamp Digital (ECIT) works beneath the surface of the skin to stimulate collagen growth, tighten, and rejuvenates skin, while keeping the epidermis intact; all without any side effects and faster healing time.
The RejuvStamp makes skin rejuvenation, safe and natural with amazing results. "The RejuvaStamp Digital helps with Acne Scars, Stretch Marks, and Wrinkles" Stated by Claire Marquez, the creator and manufacturer of the RejuvaStamp. "ECIT works by inserting tiny micro needles into the skin creating thousands of perforations. These microscopic perforations stimulate your body's own natural electrical response. (Just like acupuncture). These natural Electro signals induce your body's own natural human growth factor (PDGF), to transform into growth factor (TGF beta). This will increase blood circulation to the penetrated area, and stimulate collagen, and elastin production. The new collagen and elastin matrix can continue rejuvenation for up to 12 months."
RejuvaStamp smoothes wrinkles and expression lines, relaxes scars and improves skin texture and tightness.
The device helps:

Improves depressed acne scarring
Improves skin pigmentation
Improves stretch marks
Repairs smoker's lines
Improve crow's feet around the eyes
Smooth and tighten eyelid skin
You can visit http://www.RejuvaStamp.com to learn more about ECIT, and see their videos.
About Divine Beauty
Divine Beauty has the cutting edge in the skin care industry. The latest and most up to date knowledge is how we are able to bring you this quality non-invasive procedure and Device.
###