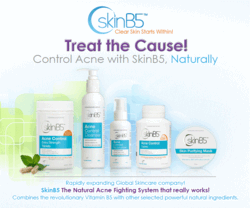 (PRWEB) January 25, 2013
Customers can collect and redeem Velocity points when they purchase SkinB5 items via the Velocity Global eStore (http://shopandearn.com.au/health-beauty/skin-b5). Velocity points can be used to buy flights, accommodation, car hire and more.
SkinB5 joins other retailers who offer Velocity points online, including eBay, iTunes, The Iconic, Clinique and ASOS, among others.
SkinB5 customers wishing to participate in the Velocity program can register at http://www.shopandearn.com.au. Once customers login to their account, they can search for "SkinB5" in the shopping search field. The customer will then be redirected to the SkinB5 website, where they can shop and order as normal. Once the transaction is complete, Velocity points will automatically be applied to the customer's account. To learn how it works, visit http://www.shopandearn.com.au/how-it-works.html.
In addition to offering Velocity rewards, SkinB5 also has its own customer reward system. For every $20 spent, one SkinB5 rewards point will be credited to their account. Points can be saved up and redeemed for discounts or free products. Each point is worth $1.
"We are also being considered by other airline shop and earn programs in other parts of the world, so watch this space!" Judy says.