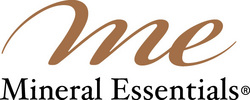 People are really finding out about minerals and they are so good for your skin
Birmingham, MI (PRWEB) July 29, 2008
The online store for Mineral Essentials® products has announced a limited time offer for free shipping. The free shipping offer applies to all online orders at MineralEssentials.com. Awakening skin's natural beauty, Mineral Essentials® products feature a unique natural complex of 34 minerals.
Mineral Essentials® products provide beauty and therapy care through a collection of products that include Mineral Essential Gel Rub, Mineral Balm, Body Lotion and Bath & Shower Gel. Each product has been developed to provide nourishment and healing naturally and effectively.
"People are really finding out about minerals and they are so good for your skin," said Susan Gans, President of Geologix, Inc., the parent company of Mineral Essentials. "Mineral Essentials products are currently used in renowned spas, and we are also excited to offer the product line direct to consumers at our online store."
The proprietary formula from which the Mineral Essentials® products are developed come from the ancient sea water in the famous Michigan Basin, 1400 feet beneath Mount Clemens, Michigan. Gans owns the Michigan well from which the highly concentrated mineral water is pumped. It is said to have the highest mineral content of any body of water in the world.
More than 100 years ago, the rich and famous traveled by private rail car to Mount Clemens for its magical mineral waters. Henry Ford, William Randolph Hearst, Mae West, Babe Ruth, and European royalty were among those that traveled to "Bath City" to receive healing benefits. Luxury resort hotels offered heated baths in the mineral waters, which were widely known to relieve the pain of arthritis and rheumatism, as well as skin problems such as eczema. The bath houses have vanished from the cityscape, but the therapeutic effects of the mineral waters can still be found through Mineral Essentials® products.
About Geologix, Inc.
Geologix Inc. manufacturers spa, massage, skin care, and therapeutic pain relief products using a proprietary formula featuring a concentration of minerals higher than that found in any known body of water in the world. The company's Mineral Essentials line focuses on spa, skin care, and massage products to moisturize and provide anti-aging protection for great skin. For more information, please visit http://www.MineralEssentials.com.
Contact: Susan Gans, Geologix, Inc., P.O. Box 1334, Birmingham, MI 48012, 800-820-0220
###