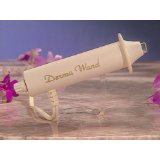 Wayne, PA (PRWEB) July 09, 2012
International Commercial Television, Inc. (OTCQB: ICTL) ("ICTV" or "The Company"), a premier company employing prominently profiled infomercial campaigns to market and brand unique products to the global consumer through multi-channels of distribution, is announcing the following: On July 3, 2012, the DermaWand was featured as the "Today's Special" on one of the largest televised home shopping channels in the United States.
Over the course of a 24-hour period, the network sold just over 21,000 DermaWands. In the final two primetime shows, approximately 6,000 DermaWands were sold in under an hour of airtime. In addition, ICTV sold nearly 3,000 upsells of its DermaVitál skincare line. The total gross sales for ICTV on this one-day's appearance on the US shopping channel were approximately $732,000.
The DermaWand infomercial continues to run strong in the United States. Over the past eight weeks, ICTV has spent approximately $682,000 in media expense, which has generated gross sales of approximately $1,787,000 between telephone and internet sales. In addition, The Company currently has over 3,000 customers enrolled in our monthly auto-ship program for the DermaVitál system. A monthly shipment of DermaVitál sells for $29.95 per month and on average, customers are staying in the program for three months.
Kelvin Claney, CEO of ICTV stated "The third quarter is off to a great start with the success of the recent "Today's Special". It has been our goal to get the DermaWand into the hands of as many people as we can throughout the world. The ICTV sales team has worked very hard over the last six months to open up larger markets for the distribution of the DermaWand both domestically and internationally and we are now seeing the fruits of those efforts."
International Commercial Television is a public company trading on the OTCQB under the symbol ICTL. The OTCQB is a dynamic electronic stock market consisting of SEC fully reporting companies. OTCQB stocks may be electronically traded through most major brokerages such as E- Trade, Scottrade and TDAmeritrade.
For further information please contact: International Commercial Television, Inc. Kelvin Claney, Investor Relations 1-206-780-2921 Email Contact: Claney(at)ictvonline(dot)com Website: http://www.ictvonline.com SOURCE: International Commercial Television, Inc.