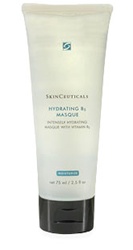 Los Angeles, California (PRWEB) March 02, 2012
Skincare Market Inc. has the new award-winning Skinceuticals Hydrating B5 Gel, which is a high-concentrated masque that infuses dehydrated and stressed skin with vitamin B5 to replenish depleted moisture levels.
This product is enhanced with a unique complex that contains the skin's natural moisturizing factor of weekly hydration treatment while re-establishing the water balance critical for maintaining skin metabolic functions at a fast level. Hydrating B5 Masque plumps moisture-deprived skin to restore a healthy, youthful appearance leaving skin supple and smooth. It also contains high concentrations of hyaluronic acid and vitamin B5 that improves skin's tissue repair function and optimizes moisture infusion in certain areas.
For the best results, apply a generous, even layer to the entire face and neck once or twice weekly only at night after cleansing and toning. Allow to penetrate for 10-15 minutes and gently massage any excess product into the skin.
# # #