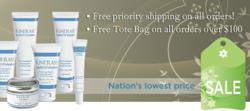 Thanksgiving Sale at Skincaremarket.net
Los Angeles, California (PRWEB) November 18, 2011
Save on skin care products this holiday season. SkincareMarket.net offers all of today's top brands and products for all of your skin care needs. Don't miss the Thanksgiving sale of 5% off of the entire skincare product line.
The season's are changing and the climate is dropping. Stay warm and keep your skin healthy and glowing throughout the holiday and winter season. Stock up and stay prepared with big savings during the Thanksgiving Sale. Skincare Market offers free shipping with any order over $30 for even further savings.
Skincare Market specializes in top of the line products from top selling brands Clarisonic, SkinMedica, SkinCeuticals, and Kinerase. Call or Email today to speak with a highly knowledgeable skin specialist customer service representative. Expert service representatives are happy to help you with any questions concerning skin treatment or product selection, and are eager to hear from you. Their staff offers their extensive experience in Cosmetic Dermatology and Dermatopology.
Skincare Market carries Kinerase, with industry leading products. Take advantage of great products like Kinerase Pro+Therapy Ultra Rich Night Repair with Kinetin and Zeatin with free shipping, a free tote bag, and 5 percent off for Thanksgiving.
Skincare products make great gifts for the holiday season. Satisfaction is guaranteed at Skincare Market with a 30 day return policy.
###