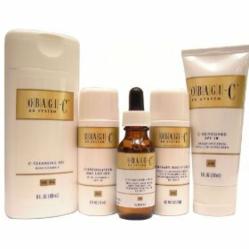 Obagi C Rx is incomparable to any other skin care system and will have the best result.
(PRWEB) September 02, 2011
The Obagi Medical Products have been so successful throughout the years and have been creating new products that are now available in over 40 countries. One of Obagi's well known systems, the Obagi C Rx System is the only topical antioxidant that stimulates collagen and protects any future skin damage. This system helps women who have aging skin and want to reverse the early signs of age spots to ensure that they will have younger-looking skin.
The Obagi C Rx system is a vitamin C prescribed strength which not only focuses on one problem on the skin but can heal all sorts of skin damage. This system is ideal for those who have normal to dry or normal to oily skin. The formulas in the Obagi C Rx products will penetrate to all levels of the skin resulting into a smooth and hydrated skin. The well-known ingredients such as the vitamin C, E, hydroquinones, hyaluronidase, and glycolics will benefit the skin to become brighter and even out the skin tone.
The 4% hydroquinone that is contained in the C Rx system has been known to treat uneven skin tone. This ingredient slows done the development of melanin which causes dark spots to fade into the normal skin color. The Hyaluronidase improves the hydration of the skin and the penetration of the products. Lastly the glycolics ingredient that makes up for the Obagi C Rx system is to embellish the exfoliation. The exfoliation helps remove dead skin cells that may be caused from an injury and it also progresses in the penetration of products. The Obagi C Rx System comes as a starter kit also for first time users who are willing to try it out and see how amazing the results might turn out to be. This product will not let you down and the result will be perfect by regenerating to a new skin.
# # #