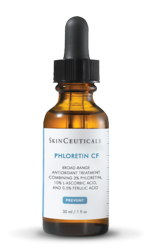 Once absorbed, does not wash or rub off and remains effective for a minimum of 72 hours.
Brea, CA (PRWEB) May 23, 2013
Skincare Market, Inc. now carries Skinceuticals Phloretin CF; it is a broad-spectrum molecule which has amazing antioxidants that work well with skin. Targeted for people with combination/sensitive skin, phloretin is used as a pigment regulator that penetrates skin for maximum results. It helps correct existing damage to help skin repair, renew and glow! Skinceuticals Phloretin CF serum contains highly concentrated vitamins C and F.
Vitamin C is the key to the production of collagen, a protein that helps the growth of cells and blood vessels which is what gives skin its firmness and strength. It lightens scars and helps skin naturally repair itself faster.
Vitamin F is an omega fatty acid that fights off free radicals and helps prevent wrinkles. This vitamin is essential for treating acne and soothing various skin conditions such as hyper-pigmentation, eczema, and psoriasis!
Skinceuticals Phloretin CF serum contains 0.5% ferulic acid that helps guard against UV damage by increasing its antioxidant activity when exposed to UV rays.