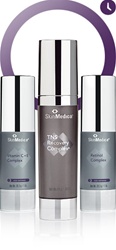 The system that works to improve your skin in many different ways!
Los Angeles, California (PRWEB) December 01, 2011
Skincare Market Inc. introduces the all new SkinMedica TNS Recovery Complex which is the first and only product with NouriCel-MD to stimulate while rejuvenating aged and sun-damaged skin. This product was found while wound-healing research. NouriCel-MD is the only product that nourishes the skin with many human growth factors and a natural mixture of soluble collagen, natural antioxidants, and matrix proteins.
These are the same elements only founded in younger healthy skin. This product contains Vitamin C Complex which is a high stable concentrated serum of 15% vitamin C in both aqueous and lipid soluble forms that provide powerful antioxidant protection, Retinol Complex provides 3 pro-retinoic acids that allows the skin at different rates with a gradual release for a better delivery system of the skin.
This system reduces and diminishes the appearance of fine lines, wrinkles, age spots, hyper-pigmentation, photo damage, roughness and firms skin texture while improving skin texture and elasticity. For the best results, apply a single pump of TNS Recovery Complex® to face, neck and decolletage after cleansing and toning. Then follow with a single pump of Vitamin C Complex over face, neck and decolletage before moisturizer and sunscreen. If applying at night, follow it with a single pump of Retinol Complex over face, neck and decolletage before moisturizer. As with any skin care product, avoid the eye area if contact occurs, rinse eyes thoroughly with water.
###