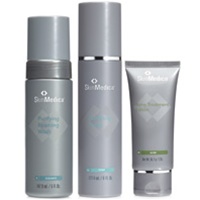 Los Angeles, California (PRWEB) March 06, 2012
Skincare Market Incs new product called the SkinMedica's Acne System manages therapeutic antiseptics to help destroy bacteria, clean deeply, speed healing and reduce breakouts on blemish-prone or troubled skin. This system includes the Acne Treatment Foaming Wash which helps clear the skin and break the chain of acne producing hormones. This foam cleanser contains salicylic acid that thoroughly washes away oil and impurities without drying the skin and helps clear the skin while preventing new acne blemishes.
Also included the Acne Treatment Toner to balance and normalize skin without irritation. This product is fragrance-free combined with salicylic acid with other natural antiseptics to reduce clogged pores while suppressing inflammation and controlling future breakouts. Last but not least the last step to this system is the Acne Treatment Lotion that heals the skin with benzoyl peroxide which has the ability to reduce acne bacteria as well as absorb sebum from the surface of the skin without excessive dryness.