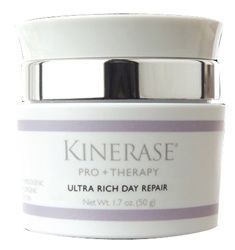 Formulated for excellent moisture absorption!
Los Angeles, California (PRWEB) October 30, 2011
Skincare Market Inc. has the Kinerase Pro Therapy Ultra Rich Day Repair which is a hydrating, intensive treatment that refines the appearance of fine lines and wrinkles. This rich cream will smooth while moisturizing and leave the skin perfect for flawless makeup application. A special bend of both Kinetin and Zeatin helps advance the more severe visible signs of skin aging such as the appearance of fine lines and wrinkles.This product is specially formulated for the best moisture absorption, regular application improves the appearance of skin texture, tone, and sun damage.
Kinetin has been scientifically proven to improve skin moisture retention while reducing the look of small creases and wrinkles without irritating skin. Zeatin boosts the slowing of normal skin aging process while helping to improve the more serious sun damage signs and aging such as skin discoloration and roughness. Pentavitin provides strong, lasting moisture binding and retention. Photosomes address the look of sun-damaged skin. Pephactive increases skin vigor and glow while the SYNCOLL advances collagen production. This product is also hypoallergenic, non- comedogenic, and fragrance free.
###