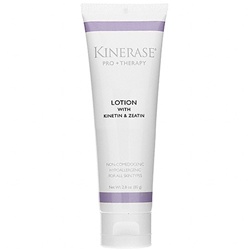 Clinically proven to show results in less than a week!
Los Angeles, California (PRWEB) December 15, 2011
Skincare Market Inc. introduces the new product called Kinerase Pro+ Therapy Lotion with Kinetin & Zeatin which provides advanced hydration and moisutre while refining texture, tone and hyperpigmentations due to aging, sun-damage, post-procedural, and intolerant skin. This product is an effective, non-irritating, age-defying moisturizer which contains a combination of advanced ingredients in skincare technology to leave your skin more flexible, soft and younger looking. It has been scientifically and clinically proven that Kinetin imcreases skin moisture retention by 26% without irritating skin and diminishes the look of fine lines and wrinkles. Also, zeatin helps improve skin texture without the side effects that are related to retinoid use. This products is best for all skin types especially normal to oily, hypoallergenic, non-comedogenic, and fragrance-free. For best results, apply to face and neck twice each day and avoid contact with eyes.
###