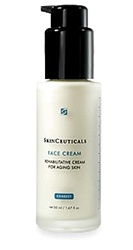 A very good New Year's Eve gift!
Los Angeles, California (PRWEB) January 13, 2012
Skincare Market Inc. recommends the SkinCeuticals Face Cream for the holiday gifts. This product is specifically formulated to fight collagen breakdown and moisture loss in mature skin. This rich and restorative cream provides a powerful firm to the skin while replenishing moisture with emollients which is perfect for the skin to diminish other harmful damages happening over time. There are different types of signs of aging in mature skin that result in three factors: dehydration, collagen breakdown, and free radical damage. But the SkinCeuticals Face Cream contains ingredients that focus to specifically formulate and counter these advanced skin care concerns. This product helps correct age-related damage while stimulating collagen and hyaluronate production to firm skin. Also, it supports replacement of lipids in dry skin to protect against free-radical attack. Recommended for dry, mature skin because this product contains Soy isoflavones, Four nutrient oils, Biosaccharide Gum, and Four effective antioxidants. For best results, apply to the face, neck, and chest once or twice daily after using SkinCeuticals antioxidant. Then follow with a SkinCeuticals sunblock in the morning.
###