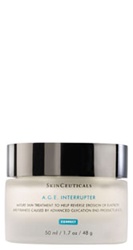 Lowest price guaranteed nationwide. Try it out for the best results to get rid of all those wrinkles!
Los Angeles, CA (PRWEB) September 17, 2011
Skincare Market Inc. has the SkinCeuticals A.G.E. Eye Complex, A.G.E. Interrupter, and the Eye Balm in the lowest prices. The SkinCeuticals A.G.E. Eye Complex is a three-dimensional treatment containing a unique combination of ingredients to completely improve severe signs of intrinsic aging around the eyes in mature skin. Also, optical diffusers corrects radiance and minimizes the appearance of dark circles and capillaries. Within four to twelve weeks, a complex of flavonoids and synergistic peptides will strengthen blood vessel walls while improving the lymphatic drainage, and eliminating hemoglobin's colored end-products to dramatically improve dark circles and puffiness.
The SkinCeuticals A.G.E. Interrupter is specifically formulated to improve the thinning appearance of mature skin caused by intrinsic or internal aging processes. The blueberry extract ingredient slows down the process of advanced glycation end product formation, preventing the collagen and elastic fibers to disperse. Proxylane stimulates GAG synthesis and also restores water and nutrients to the dermal epidermal junction. Phytosine helps protect the skin's barrier to alleviate discomfort associated with dry, aging skin.
The SkinCeuticals Eye Balm is a combination of highly effective, yet gentle phytochemicals that rejuvenates mature, aging skin around the delicate parts of the eye area. The product's rich, corrective emollient treatment is specifically formulated to counter the three prime signs of aging, moisture loss, collagen breakdown, and free radical damage. This natural anti-inflammatory is added to reduce the appearance of under-eye puffiness while soothing irritated skin.
###