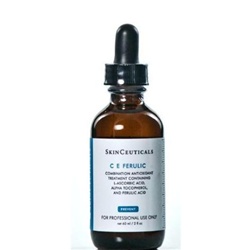 Most Used Product to Fight Off Wrinkles and Photo- aging Skin!
Los Angeles, CA (PRWEB) October 08, 2011
Skincare Market Inc. is now carrying the latest SkinCeuticals CE Ferulic which is a revolutionary antioxidant combination that delivers advanced protection against photo-aging while neutralizing free radicals, helping build collagen, and providing unmatched antioxidant protection. The more protection there is for the skin means more youthful looking skin and better defense against environmental aging.
This product alone has the maximum anti-aging results even better than any one antioxidant alone. It helps neutralize free radical damage and helps protect against oxidative stress which are the factors that lead to premature aging, loss of elasticity, and hyper-pigmentation. Also when this product is once absorbed on the skin it can not be washed or rubbed off which makes it an excellent for use in conjunction with sunscreens. For best results, apply 4- 5 drops to a dry face, neck, and chest once in the morning after cleansing, then complete it with SkinCeuticals Hydrating B5 Gel, a SkinCeuticals moisturizer, and sunscreen.
This highly advanced antioxidant serum includes 15% pure L-ascorbic acid, 1% alpha tocopherol and ferulic acid to reduce and prevent visible signs of aging and photo-damage caused by enviromental damage. It also neutralizes free radicals, shields against UV damage and enhances collagen production. It also conditions and clarifies the complexion of the skin for improved beauty.
###