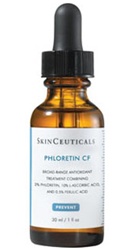 2011 Allure Best of Beauty Award Winner!
Los Angeles, California (PRWEB) September 22, 2011
Skincare Market Inc. carries the SkinCeuticals Phloretin CF that roles as a new class of prevention and corrective topical antioxidant treatment. After many years of hard research, SkinCeuticals developed this patent-pending breakthrough technology combining the newly- discovered power of phloretin with vitamin C and ferulic acid in a bio-diverse formula to divide and fight sources of damage at every and any level.
Phloretin CF is a broad-spectrum treatment that protects against not only free radicals but the range of other reactions known to cause damage and DNA mutations.. In addition, it corrects existing damage by stimulating the synthesis of essential proteins, fibers, and accelerating cell turnover. The result is a strengthened support structure on the inside and a youthful, firm, radiant appearance on the outside. For best results, apply 4-5 drops one time in the morning after cleansing to a dry face, neck and chest and follow with SkinCeuticals Hydrating B5 Gel and a SkinCeuticals moisturizer and/or sunscreen.
###