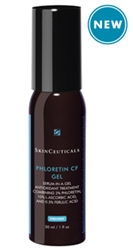 Best Selling Product that Shows Positive Results!
Los Angeles, California (PRWEB) October 21, 2011
Skincare Market Inc. now carries the SkinCeuticals Phloretin CF Gel which is a special blend of optimized acid combination of phloretin, vitamin C, and ferulic acid, this gel based serum protects skin from DNA defects and damage among the integral cell types. These three antioxidants also advances cell turnovers and stimulates collagen synthesis to structure the skin's structure for a tighter, luminous appearance.
SkinCeuticals Phloretin CF Gel is best for sensitive and ethnic skin types. Also, this product can be used for men. It is well known for suiting people with problematic, normal, combination, oily, or sensitive skin types. This product provides full photo protection while improving the skin's collagen cycle and reducing age spots as a result of UV-induced and increased cell turnover with the full delivery of controlled penetration in a light, fresh balance. For the best results, apply two or four to five pumps of this gel to the face, neck, and chest area once in the morning after cleansing, and make sure to avoid the eye area.
###