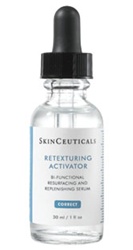 Los Angeles, CA (PRWEB) March 25, 2012
Skincare Market is proud to present the new SkinCeuticals Retexturing Activator; an advanced formula that outshines any other skin care product on the market. With its combination of exfoliation and hydration, the activator revitalizes the skin and completely reconstructs its fabric into a smooth and flawless texture. Using new research and skin technology, this treatment will definitely bring fast results to damaged skin with its accelerated ability to recreate the skin barrier for more recovered looking skin.
This treatment promotes cell differentiation in order to help optimize the skin's amino acid to recreate new skin cells without any harsh side effects. The SkinCeuticals Retexturing Activator is created to form an efficient resurfacing treatment for all different types of skin. SkinCeuticals has successful with its goals of developing a remedy for damage to the skin from sun damage and aging. By stimulating enzymes to fill desquamation, the Retexturing Activator reduces irritation and replenishes the skin with plenty of moisture and protection. Because of its key element of the skin's natural moisturizing factor (NMF), this product is guaranteed to show quick results in less than two weeks.