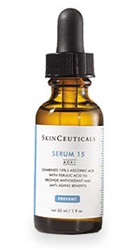 For a younger, fresher face! Try the all new SkinCeuticals Serum 15 AOX today!
Los Angeles, Califonia (PRWEB) September 29, 2011
Skincare Market Inc. has the SkinCeuticals Serum 15 AOX. This product is designed for all but the most sensitive skin types to help restore healthy looking skin. Serum 15 AOX+ neutralizes free radicals while fighting against environmental damage, and helps prevent premature signs of aging. And now it is formulated with AOX+ advanced antioxidants that will boost the effect. Serum 15 AOX+ is a lightweight, fast-absorbing serum with both ferulic acid with 15% and pure vitamin C to enhance antioxidant performance. For the best results, apply 4-5 drops to a dry face, neck, and chest once in the morning after cleansing. Then follow with SkinCeuticals Hydrating B5 Gel and/or a SkinCeuticals moisturizer or sunscreen.
SkinCeuticals Serum 15 AOX helps reduce the appearance of fine lines and wrinkles and stimulates collagen synthesis for healthier skin. With vitamin C it delivers 15% L-ascorbic acid to the skin for hydration and moisture. When once absorbed it can not be washed or rubbed off, remaining effective for a minimum of 72 hours. AOX+ advanced antioxidant technology - combines ferulic acid with 15% L-ascorbic acid for enhanced antioxidant performance.
###