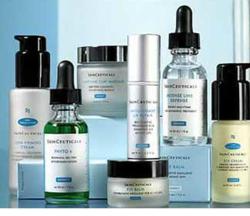 SkinCeuticals is the top leading brand for skin products.
Los Angeles, CA (PRWEB) September 30, 2011
Skincare Market Inc. updates the SkinCeuticals with more products and better prices. SkinCeuticals is to improve skin to a healthier look.
SkinCeuticals provides complete skin care solutions through dermatologists, plastic surgeons, medi-spas, and other skin care professionals, earning a strong reputation in the United States and in over 35 countries worldwide. The SkinCeuticals research team helped develop the advance of cosmeceuticals with the original modern vitamin C formula that protects skin from early signs of aging caused by environmental damage. To maintain and improve skin health, an effective skin care regimen must contain three fundamental aims as in to prevent future damages, protect healthy skin, and correct previous damages. SkinCeuticals, achieving results means more than restoring youthful, luminous skin, it means preventing serious skin conditions or skin cancer. SkinCeuticals has adopted a broader approach to product development. It formed relationships with top scientists from the fields of cellular and molecular biology, chemistry, biophysics and medicine to further the understanding of the skin aging and developing process and individual skin conditions.
###