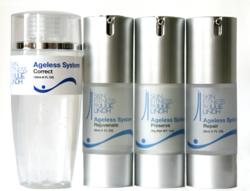 I am excited to offer my Skin Fitness facials and products at Vanity Studios for my Swedish audience. Julie.
New York, NY (PRWEB) March 29, 2012
Julie Lindh can now add Vanity Studios (Stockholm, Sweden) to the list of exclusive Skin Fitness providers. Lindh, a licensed aesthetician with offices in NYC and Sweden launched the 4-step Skin Fitness regime a few years ago, and has since been experiencing overwhelming demand for the treatment program, which includes procedures and products that correct, repair, rejuvenate and preserve tired, stressed or damaged skin. The non-invasive procedures are typically delivered over the course of several sessions by a licensed provider, and supplemented with at-home products.
When one of Lindh's apprentices, Sweden-based Martina Oljans (http://www.askin.se), who is also the first independent Skin Fitness expert in Sweden, came on board as fully licensed Skin Fitness provider, Lindh knew there were more opportunities to be had.
Martina Oljans offers her services in one of Stockholm's trendiest salons, Vanity Studios (http://www.vanitystudio.se) loved the idea of Lindh's VIP skincare and immediately jumped on board. Vanity Studios marks the latest addition to the Skin Fitness directory of providers, and will provide the full Skin Fitness program, including full menu, customized skin care products and private in-salon beauty events.
About Julie Lindh
World-renowned aesthetician Julie Lindh is a renowned skin care expert. With her uniquely innovative four-phase approach towards skin care, Julie helps patients achieve and maintain clear, glowing and radiant skin, making it easy to understand why some devotees call her "the healer". Lindh's skincare philosophy is based on a belief that treatment is unique to each skin profile. The services offered in her NYC and Sweden based offices are customized, and are provided only after Lindh completes a full skin analysis of each patient. She also travels the world to cater to clientele, including A-list celebrities, socialites and high-end day spas.
Julie also has an active blog, Facebook and Twitter presence.
About Vanity Studios
Vanity Studios is an upscale Salon offering a full range of beauty and hair services, from color, cut and extensions to facial treatments, permanent makeup and nails. Vanity Studios is a licensed partner of the following brands: Redken, Kerastase, J Beverly Hills, Be Gorgeous, Dermalogica, Murad, Jan Marini, Jane Iredale, ID Bare Minerals, Vixxen, Kinetics and Jessica.