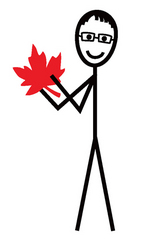 The Skinny on Credit Cards by Jim Randel is a straight, simple, nonscary guide.
Westport, CT (Vocus) June 5, 2010
Rand Media Co's award-winning SKINNY ON™ series is making its first appearance in Canada with a store-wide rollout in Indigo and Chapters book stores across the country. Seven of the most popular Skinny On ™ titles will be included in a tabletop display within Indigo's business section.
Indigo Books & Music Inc. is the largest book retailer in Canada operating bookstores in all 10 provinces under the names, Indigo, Chapters, World's Biggest Bookstore, and Coles. A Canadian company based in Toronto, Ontario, Indigo provides consumers with inspiring retail and online environments for books and life enriching products & services.
The Skinny On™ books are challenging the conventional publishing model with content not seen in traditional books. Mirroring a modern-day internet reading experience, The Skinny On™ books are concise syntheses of bottom-line information presented in a highly visual, illustrated, narrative format. The titles summarize the expertise of authors, celebrities, and experts, and enable readers to educate themselves on a chosen topic in a fast, enjoyable manner.
Skinny On™ books are formulated to be read in one hour, and the series is receiving rave reviews from readers, reviewers, experts, bloggers, educators and journalists alike:
Steve Pagliuca, Managing Director/Co-Owner, The Boston Celtics: "I loved The Skinny on Time Management … it's substantive, fun and funny. I give it my highest recommendation."
The New York Times, "The Skinny on Credit Cards by Jim Randel is a straight, simple, nonscary guide."
The Daily Worth, "Cliff Notes with a Kick….Jim Randel uses pithy quotes, new research and nuggets from seminal books…to strip success down to its nuts, bolts and gears.
Eric Hippeau, CEO, The Huffington Post: "The Skinny on Success – a funny, precise and profound book on life and success. A wonderful read!"
Indigo will be premiering Skinny On™ titles about credit cards, time management, the art of persuasion, direct selling, networking, success and real estate investing.
For More information visit http://www.theskinnyon.com
Press contact:
Becky Manuel
Telephone: (305) 342-7990
# # #