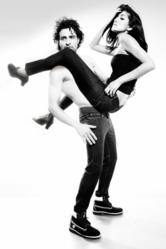 We are making it easier than ever to find the best-fitting and stylish skinny jeans for you.
New York, NY (PRWEB) April 02, 2012
Staying up to date with the popular trend of skinny jeans is easier and more affordable than ever with the launch of SkinnyX.
The company, available online at http://www.SkinnyX.com, is taking slim to the next level by designing jeans tailored to each customer's individual measurements. This eliminates the need for people to search for and try on countless pairs of slim jeans before finding the right fit for them.
"SkinnyX is taking the classic skinny jean look to a whole new design level," said Harry Fashion, founder of SkinnyX. "We believe that a pair of stylish jeans should be all about the individual wearing them, which is why we offer a custom-made fit for our customers. The days of searching for the perfect pair of skinny jeans are over."
SkinnyX works by taking each customer's measurement profile and tailoring the design of the jeans accordingly. Each pair of custom-fit skinny jeans is created with stretch fabric, adding comfort to a highly popular style. Ordering through SkinnyX.com is simple and easy, and users can track their orders through a personalized account, which also saves their measurements for future orders.
In addition to slim fit, SkinnyX offers a wide range of other jean styles, including boot cut, flare, straight leg and many others—for both men and women. Each pair of jeans is professionally sewn and treated with a high-temperature enzyme wash, and with its 'Good Fit Guarantee,' the company will remake a pair of jeans for a second time at no charge if a customer is not satisfied with his or her fit.
"We are making it easier than ever to find the best-fitting and stylish skinny jeans for you," said Fashion. "With all of your measurements and information saved in your secure personal account, you can come back again and again, ordering in just a few minutes."
SkinnyX ships orders worldwide, and each pair of jeans is handmade made by skilled craftsmen and professional clothing designers. To learn more or to browse the company's selection, please visit http://www.skinnyx.com.