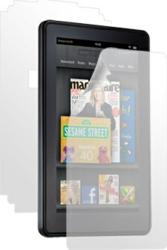 Los Angeles, CA (PRWEB) March 03, 2012
SkinPea is a new company that sells high quality screen protectors with Anti- Ripple Technology and much more.
SkinPea Screen Protectors with Anti-Ripple Technology are the optically clearest and toughest screen protectors available to help defend your device against any and all scratches caused by keys, nails, normal use or even contact with asphalt. Many competitors have claimed that their screen protectors are "invisible," when in fact, they are not. But at SkinPea, the screen protectors are Anti-Ripple Technology which prevents virtually 100% of unsightly "orange peel" or "ripple" effects caused by reflected light. The SkinPea Screen Protectors also features a 8mil film which is among the thickest in the industry. The Anti-Ripple Technology prevents unsightly "rippling" or "orange peel" effect on covered surfaces which has Antimicrobial Treatment to provide germ protection from constant handling. Also, this product has a Ultra Heavy-Duty 8mil Film reinforces shock absorption and screen protection with UV Stability eliminating yellowing of screen protector for super conforming maximum contour coverage.
###