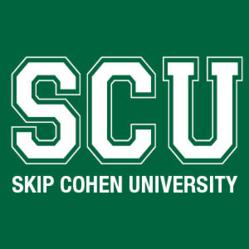 Working hard to help professional photographers THRIVE, not just survive!
Sarasota, Florida (PRWEB) April 17, 2013
In 2009, photo industry executive, Skip Cohen, founded Marketing Essentials International and launched the first Skip's Summer School, which twelve weeks ago evolved into Skip Cohen University. SCU is based on a simple educational concept…it's time to get back to basics.
"I'm applying the same energy, technique and passion we used to build WPPI, starting with an incredibly talented team of industry leaders. SCU has some of the finest photographers in the industry involved. Plus, a support team of dedicated, uncompromising artists, developers and designers," Cohen commented.
Playing off the university metaphor brings together the core of the faculty with Clay Blackmore as Dean of Wedding, Matthew Jordan Smith as Dean of Portraiture, Scott Bourne as Dean of Marketing, Rich Harrington as Dean of Video/Fusion and Michele Celentano as Dean of Students.
And the Partners in this project so far are an equally stellar group with Drobo, Manfrotto USA, Pansonic's LUMIX Team, ProfotoUSA, Resource Magazine, SmugMug, Tamron USA, Venice Album and X-Rite Photo.
Each Partner is directly involved in the project, starting with their own full support page with links to key staff members, services and products. Additional involvement comes with videos, podcasts and guest posts, creating a unique educational resource for aspiring and working professionals.
Determined to build a lasting resource for professional photographers that's available all year long, the SCU site is now home to 35 faculty galleries. There are over 100 videos, 33 podcasts with noted industry icons and 100+ posts and guest posts.
Live events are another back to basics key to success. The upcoming Summer Session for SCU in August will appeal to the beginner in wedding photography right through to seasoned pros. Programming, including hands-on education, will be offered in family portraiture, lighting, fine art, advanced wedding photography, intermediate Photoshop and hybrid technology, business/marketing and even boudoir and fashion.
Skip Cohen University is an educational resource for aspiring and working professional photographers offering a unique perspective to photographic education. Live programs for 2013 include August 11-14 in Chicago and a 1-2 day program in October (TBA) in the NYC area. For the latest information on all educational events visit SkipCohenUniversity.com.
Any questions regarding SCU can be directed to Skip Cohen personally at Skip(at)mei500(dot)com