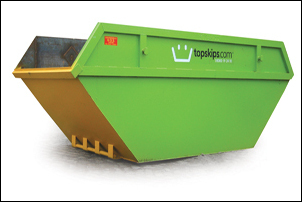 As for the amount of charge in our area, the charge varies from zero to £22.50 which is a wide variation and at £22.50 is excessive. A more reasonable amount would be say a £1.00 if a charge at all is to be made. After all they are only allowed to charge for
Manchester, UK (PRWEB) April 3, 2007
The Skip magazine, published monthly by national skip hire company Topskips.com as "The Voice of the Skip Hire Industry in the UK and Ireland," has revealed details of an online petition about skip permits it started after receiving a letter from a reader complaining about local authorities making skip hire companies into unpaid tax collectors with their policies regarding skip permits.
The price and terms of obtaining a skip permit for placing a skip on a public highway varies massively from council to council. In many areas it costs nothing and can be issued within minutes, yet in Wandsworth, London, a permit can take five days to obtain and cost a whopping £94.
Skip hire companies, of course, have to pass these costs on to their customers.
Founder and Managing Director of "The Skip" and Topskips.com, Mark Attwood, says, "Apart from making it impossible to be able to offer a singular price per skip across the country, skip permit charges also encourage fly-tipping and are a tax on the poor.
"If you have not got the luxury of a drive or private property to place the skip you have hired onto, and are forced to place it on a public highway, the additional cost and time taken to get a skip permit actively discourages you to use a reputable skip hire company that will dispose of the waste responsibly, and actively encourages you to use unlicensed "man with van" types.
"So you end up with people living in smaller properties having to either pay more for a skip or using a service that cannot afford to recycle or landfill your waste, which is ultimately why there is someone fly-tipping in the UK every 35 seconds or so. And who pays for the clean-up of this mess? We do, with our council tax bills.
"It's a depressing situation but one that can be solved if we can get local and national government to listen to the grievances of the skip hire industry then discuss a way forward so there's one rule for everybody."
Currently it is entirely down to the whims of a local authority as to what they can charge for a skip permit, and what other rules and regulations they can place on a skip hire company. These whims are allowed by interpretations of the 1980 Highways Act (Section 139: Regulations relating to the depositing of a builder's skip on a highway).
Most councils cite "road safety" as their reasons for implementing permit charges and regulations about skip lights and cones.
The costs of replacing stolen lights and cones, explaining additional charges to customers, and seeing one rule for council skips and another rule for private skips, has got the skip hire industry mad.
The skip permits petition highlights the anger and resentment being felt by skip hire companies.
It was started when a reader of "The Skip", Christopher Peano (Managing Director of East Lancs Skip Hire), sent a letter in stating: "Looking at the "Highway Act" and the "Table for Charges", they use phrases like "the person making the application" and "the person requiring the permit". This in my opinion is the customer, builder or householder - not the skip operator.
"They are trying to make themselves a very easy life and make us unpaid tax collectors.
"As for the amount of charge in our area, the charge varies from zero to £22.50 which is a wide variation and at £22.50 is excessive. A more reasonable amount would be say a £1.00 if a charge at all is to be made. After all they are only allowed to charge for "considering the matter" and covering any legitimate expenses. Only 1% of people are willing to get a permit and pay exorbitant fees as they consider the charge another stealth tax. But 100% would get permits if they were no charge or a reasonable charge of say a £1.
"Regarding the matter of lighting and coning, to say the 'owner' is liable is unreasonable and impossible to work as in our case we have 1200 skips. How could we go round and check them every night?"
Christopher's letter has garnered a lot of response from around the country. Linda Latham runs a skip hire business in Ellesmere Port:
"Permit charges are ridiculous. No cohesion at all in regulations or prices. Ellesmere Port are now asking for the householders' home insurance details in case anything sticking out
of the skip hits someone who passes. And we, the skip company, have to gather all this information, including the builders' contact details before they will give a permit. We are being legislated to death and it's getting harder all the time. They charge £25, Sefton £10, Halton £31.00, St Helens £6.00. Its sheer madness and can only encourage illegal tipping."
Jennie Jackson from North Yorkshire says: "In the Scarborough area it is £15 per 14 days and the same price to re-new. In the Bridlington area it is £11 per 28 days. I find it totally ludicrous that for the two areas to be different priced and to try and explain that to our customers is hard work.
"To check all the skips daily to make sure the lights and cones are still present is virtually impossible; we would have to employ someone to do that. There should be a set price for permits, if a price at all. I am curious as to where all the extra revenue is going."
John Budd from Bu-Mar skip hire in Cornwall added his voice: "I wholly support your petition as regards permits. Down here in Cornwall it cost us £30 for a skip license and 5 working days notice for application.
"If a continuation is needed then another £30 is required. As for lighting I have purchased 300 lights over the past three years and have only got about 25 left due to theft and vandalism."
Mark Attwood concludes "Skip hire in the UK is a massively important industry, both to the economy and the environment, and people should start taking it a bit more seriously. Most skip hire companies are doing a great deal to meet recycling targets, implement new legislation, keep up to date with Heath and Safety issues. All of this costs more and more money to the point that hiring a skip is changing from being a convenience to a luxury service, which is ridiculous.
"We need to get people in government to see that there are consequences to their actions. Some bright spark may think it's a brilliant idea to make money out of skip prices being increased for them being on the highway, but they're just not thinking it through. We hope this petition goes someway to getting these issues heard and, hopefully, lead to some action being taken"
###