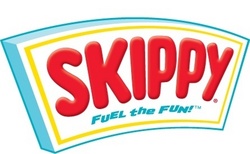 The donation will feed 233,000 families across 33 counties
LITTLE ROCK, Ark. (PRWEB) August 11, 2008
Dozens of culinary creations like the "Elvis PB Special" were doled out to volunteers and community members by Little Rock restaurateurs Todd Gold (The Purple Cow) and Kathy Webb (Lilly's Dim Sum, Then Some) to recognize the donation of 36,000 jars by Unilever's Skippy(R) Peanut Butter to the Arkansas Foodbank Network. Sen. Blanche Lincoln, co-founder of the Senate Hunger Caucus, and Phyllis Haynes, executive director of the Arkansas Foodbank Network, accepted the donation - enough peanut butter to make a half-million sandwiches - from the Little Rock Skippy Peanut Butter facility.
"The donation will feed 233,000 families across 33 counties," said Haynes. "It comes at a great time in our battle to eliminate hunger here in the state. It is harder and harder to procure nutritious food for those in need, and the donation by the local Skippy plant will play a critical role in helping us feed hungry Arkansans."
"The Skippy Peanut Butter facility has been a part of the Little Rock community for more than 30 years, and we are delighted to make this donation of nutritious food to Arkansans in need," said Patrick Mathieu, Skippy Supply Leader. "I'm proud that the employees at Skippy are part of this effort to help eliminate hunger in our state."
Skippy Peanut Butter is a great way to provide families with a natural energy source they're sure to enjoy. Each serving of Skippy Peanut Butter has 7 grams of protein to fuel busy families.* Visit Skippy's website, http://www.PeanutButter.com, for more information about Skippy's community activities, as well as for recipes and fun activities for kids.

Skippy(R) Peanut Butter contains 16 g total fat and 3 g saturated fat per serving.
About The Arkansas Foodbank Network
The Arkansas Foodbank Network has been working since 1984 to eliminate hunger in Arkansas by providing nutritious food to those in need. Through over 400 member agencies in 33 counties, AFN feeds about 23,000 hungry people each week in an effort to help the half a million Arkansans who live in poverty.
About Unilever
Unilever's mission is to add vitality to life. We meet everyday needs for nutrition, hygiene and personal care with brands that help people feel good, look good and get more out of life. Each day, around the world, consumers make 160 million decisions to purchase Unilever products.
In the United States, the portfolio includes major brand icons such as: Axe, "all," Ben & Jerry's, Bertolli, Breyers, Caress, Country Crock, Degree, Dove personal care products, Hellmann's, Klondike, Knorr, Lipton, Popsicle, Promise, Q-Tips, Skippy, Slim-Fast, Snuggle, Suave, Sunsilk and Vaseline. All of the preceding brand names are registered trademarks of the Unilever Group of Companies. Dedicated to serving consumers and the communities where we live, work and play, Unilever employs more than 14,000 people in both the United States and Puerto Rico - generating nearly $11 billion in sales in 2007. For more information, visit http://www.unileverusa.com.
Keyword Tags:
arkansas, donation, donation charity, hunger, hunger relief, hungry, little rock, peanut butter, peanut butter and jelly, second harvest, skippy, skippy peanut butter