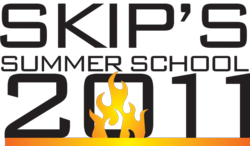 Our goals are simple: We want to create an outstanding venue to help both new and seasoned photographers grow their business.
Las Vegas, NV (PRWEB) June 22, 2011
Educational programs for professional photographers are all over the place, but there's one program giving attendees more and more every year, Skip's Summer School. Founded by long time industry executive, Skip Cohen, Summer School offers veterans and aspiring pros access to some of the finest photographers and unique programming in the world.
"We've got an amazing faculty this year. Every program hits on topics critical to helping photographers fine tune their skill set, marketing efforts, diversify their product lines and grow their business! Plus, this year we've got some new sponsors and great benefits for every attendee," commented Cohen.
Those new benefits include full registration for just $75 to what most consider the single best and biggest professional photographic show in the country, WPPI 2012. OnOne Software will give each attendee a free copy of PhotoTools 2.5, a $159.95 value, while Photodex will offer attendees a discount on their complete line of products. Album Epoca will give attendees a chance to design their free customized event album along with giveaways from just about every one of the twenty-two companies involved in this year's school.
New to sponsorship this year is an exciting non-profit, there to help photographers channel their charitable efforts, Cameras For Kids Foundation. This relatively new foundation on the photo scene, founded by fine art photographer Betsey Chesler, is working with abandoned children by exposing the teens to the process of creating art through a camera's lens. CFKF uses photography to capture participant's imaginations, to empower them, build confidence, self-esteem and open a whole new world for them to visualize and create.
"The excitement of Summer School and the benefits go far deeper than the educational message from each program. This is about helping photographers build their network and get them the full benefits of a new photographic community. Year after year we've seen attendees refer to the program as "life-changing" and it's all because of the spirit of the faculty and sponsors."
This year's faculty, in order of appearance, include Jerry Ghionis, Tamara Lackey, Bambi Cantrell, Roberto Valenzuela, Jules Bianchi and Joy Bianchi Brown, Tony Corbell, Bobbi Lane, Clay Blackmore, Scott Bourne, Doug Gordon, Kevin Kubota, Matthew Jordan Smith, Bob Davis, and Skip Cohen. The closing program? Who else but Pulitzer Prize winner, Vincent LaForet.
Summer School is July 31 - August 3 with the first program starting Sunday evening allowing photographers to be away for a minimum amount of time with maximum educational benefits. The program this year is at the Mirage Hotel in Las Vegas with a special rate for Summer School attendees.
For more information visit the Summer School website at http://www.mei500.com or contact Skip Cohen directly at 330-867-1006.
###