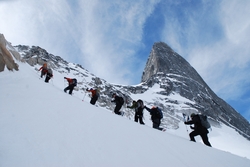 Banff, Alberta (Vocus) December 10, 2009
For those who are obsessive about backcountry Ski Touring, CMH Heli-Skiing and Arc'teryx have joined together and come up with a way for you to channel those persistent, dominating thoughts. From now until February 15, 2010, CMH Heli-Skiing is inviting fans to create a video, of two minutes or less, conveying What Inspires You to Ski Tour for a chance to win an exclusive 7-day Heli-Assisted Ski Tour trip for two at the Adamant Lodge in Western Canada from April 2 -10, 2010 -accompanied, for this one time only, by the renowned modern-day backcountry ski explorer Greg Hill, and completely outfitted with head-to-toe gear from Arc'Teryx.
To enter, avid Ski Tourers should read the rules and regulations on the website cmhski.com/arcteryx, make a video and post it to YouTube tagged as CMH Heli-Skiing, Arc'Teryx, & Ski Touring, then fill out the Official Contest Entry Form. A panel of CMH and Arc'Teryx judges will view the videos and select the top three entries. The winner will be announced on February 28, 2010.
About Canadian Mountain Holidays (CMH Heli-Skiing)
Offering heli-adventures since 1965, Canadian Mountain Holidays is the oldest and largest heli-skiing and heli-hiking operator in the world. From their head office in Banff, Alberta, CMH operates exceptional helicopter adventures from 12 different lodges located in the Bugaboo, Purcell, Selkirk, Kootenay, Monashee, and Cariboo ranges of British Columbia, Canada. Helicopter skiing takes place from December through April, and summer adventures from July into early September.
Contact:
Sarah Pearson
Canadian Mountain Holidays (CMH Heli-Skiing)
Phone: 1-800-661-0252 or email info(at)cmhinc(dot)com
###