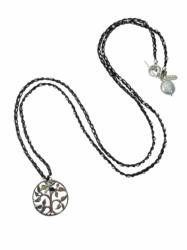 SKM Artworks will be great for woman searching for that signature "it" piece that can take them through their day and into the night, as well as for gift givers hunting for that distinctive handmade find.
Franklin Lakes, NJ (PRWEB) November 14, 2011
Every woman yearns for it-- that unique gift of jewelry that conveys a special thoughtfulness, jewelry that makes her feel as good as she looks. Emerging jewelry manufacturer SKM Artworks of Franklin Lakes, NJ offers that and more - a collection of meaningful wearable art created by weaving stunning jewels and precious metals within Irish waxed linens and certified-green leathers...rustic and spiritual with a luxury twist.
Owner and lead artisan Susan Miller handcrafts her items using techniques that she developed to merge the craft of crochet with the art of jewelry making. By carefully choosing the gems she works with, Miller has managed create an affordable line that has striking visual appeal, amazing stylistic flexibility, with a unique look that stands out in any environment.
This new gift option for the 2011 Holiday season appeals to a wide variety of gift markets.

Handmade Market: This year, more than ever, buyers look to celebrate individuality through unique handcrafted design. SKM Artworks jewelry fits today's consumer dismissal of mass produced, cookie-cutter fashion. "People everywhere are recognizing their desire for products made for an individual by an individual" explains the Miller, "That's what the handmade movement is all about and that's what SKM is all about. This is not jewelry as status symbol. This is jewelry as expression of individuality".
Cause Related Gift Market: SKM embraces the trend for charitable giving through consumer purchases. Miller's own social work background ensured that SKM would have a purpose greater than exclusively offering beautiful hand woven jewelry. Since opening in 2010, the company has supported many local NJ charities in addition to selling a beautiful gem encrusted hand woven bracelet, the iHug Wristhug, that benefits the iHUG Foundation – a grassroots organization serving many of Uganda's most impoverished children.
Most recently, SKM designed "Ignite", for Kula for Karma for use in their fundraising endeavors. "We love that people wearing Susan's piece will become agents for social change and help Kula for Karma grow," adds Geri Topfer, Founder and President of the organization.
Art Jewelry Market: "Jewelry as an accessible art form seems to have struck a chord with people looking to relate on a deeper level with what they buy and wear," states Miller. "The jewelry industry is shifting to a type of jewelry art," says Stuart Freedman, President of Fire Mountain Gems. "Jewelry that tells a story and has a personalized meaning to the designer or the wearer is one of the most dominant trends that will continue over the next year."
Value Market: SKM Artworks maintains a special focus on keeping their jewelry affordable. If you know what you're buying, great looking gems don't have to cost a fortune. Where some companies come at affordable pricing through mass-production or using teeny-tiny stones in itsy-bitsy pieces, Miller gets there through her knowledge of gems and the people who mine and sell them.
Custom Jewelry Market: SKM Artworks offers several items that can be customized with birthstones for a truly individualized gift. Example, the Family Tree necklace can be customized with family birthstones. A great gift for moms and grandmothers alike. Additionally, all pieces can be custom ordered in a wide variety of sizes or with alternative gems. If you have a specific desire, SKM accommodates.
"By designing jewelry that is sophisticated, fun and unique, I think SKM Artworks will be great for woman searching for that signature "it" piece that can take them through their day and into the night, as well as for gift givers hunting for that distinctive handmade find," says Alison Kadanoff, manager of D'Errico Jewelers, award winning Westchester, NY jeweler who just picked up Miller's line in time for the holiday season.
SKM Artworks is currently available at http://www.shopSKM.com and various exceptional east coast boutiques and jewelry stores. Retail prices for SKM's necklaces range from $89-$299; earrings, $45-$125; bracelets $59-$199.
###