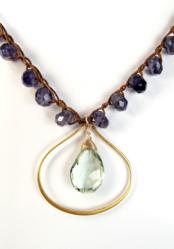 SKM Artworks jewelry fits today's consumers dismissal of mass produced, cookie-cutter fashion.
Franklin Lakes, New Jersey (PRWEB) September 30, 2011
Energizing the jewelry and design worlds with a new line of wearable art, SKM Artworks combines hand-crafted quality with a spectacular variety of gorgeous gems, sophisticated designs, and appealing artifacts. These are versatile pieces that morph easily from day to night -- think equally at ease running around town or on the red carpet and you're starting to get the picture.
Long time craftswoman Susan Miller combined her passion for creating handwoven textiles with her love of natural jewels when she founded SKM Artworks two years ago. Retailers and online customers love the new fashion option putting SKM pieces in high demand.
Miller shares her formula for success.
1. Celebrate individuality through unique handcrafted design. Every woman yearns for it--that piece of jewelry that stops people in their tracks and makes them ask, "Where did you get that?" The piece that gets attention because it's unusual, unique and incredibly attractive. SKM Artworks jewelry fits today's consumers dismissal of mass produced, cookie-cutter fashion. "People everywhere are recognizing their desire for products made for an individual by an individual" explains the artist, "That's what the handmade movement is all about and that's what we do".
Miller describes her jewelry as "handcrafted luxury with an indie vibe". Her unique style of weaving gorgeous jewels and precious metals within waxed linen and certified-green leathers gives the collection an organic appeal that feels as if it's been grown rather than made. Adding to this are the marvelous finds resulting from a constant search for antique and reproduction artifacts--from Buddhist symbols to Roman Coins and antique gaming chips--all presented in a manner that conveys an innovative style with an eye for the classics.
2. Offer great value at affordable price points. "When I was shopping for jewelry, I found a gap in the market that I knew I could fill. Every woman wants something that's unique and speaks to her but that also fits within her budget, especially in today's tough economy. That's been a primary goal for us."
If you know what you're buying, great looking gems don't have to cost a fortune. That's why almost all of her items come in at under $300. Where some companies come at these prices by using teeny-tiny gems in itsy-bitsy pieces, Miller gets there through her knowledge of gems and the people who mine and sell them.
3. Do well while doing good. SKM Artworks supports numerous local New Jersey charities as well as the iHug Foundation that serves some of the most impoverished children in Uganda. The SKM line includes the iHug Wristhug of which 20% of the proceeds benefit this amazing grassroots organization.
"I don't just want people to look great while they're wearing my pieces. I want them to feel great, too," Miller says. "And they can do that knowing where SKM Artworks came from and who we are."
This unique collection is currently available at http://www.shopSKM.com and various exceptional east coast boutiques and jewelry stores. Retail prices for SKM's necklaces range from $89-$299; earrings, $45-$125; bracelets $59-$199.
###