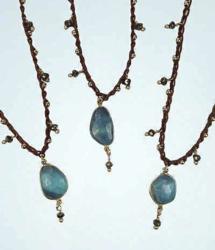 Jewelry that tells a story and has a personalized meaning to the designer or the wearer is one of the most dominant trends that will continue over the next year.
Franklin Lakes, NJ (PRWEB) October 26, 2011
Everyone from museum curators to industry experts are seeing a rise in the awareness and appreciation of jewelry as an art form - a trend that Susan Miller of SKM Artworks is proud to be a part of.
"Jewelry as an accessible art form seems to have struck a chord with people looking to relate on a deeper level with what they buy and wear," states Susan K. Miller, founder, president and chief artisan for emerging jewelry manufacturer SKM Artworks of Franklin Lakes, NJ. "Art pieces tell a very personal story that the wearer becomes a part of. There is the connection to the artist and their message, to feelings evoked by the form. This is not jewelry as status symbol. This is jewelry as expression of individuality".
Often considered mere decoration, jewelry is receiving increasingly respectful attention from sophisticated art experts. One example is the tremendous audience and critical acclaim that the recent opening of "Picasso to Koons: The Artist as Jeweler" an exhibition at the Museum of Arts and Design in NYC has achieved.
Insiders say this is all part of a significant trend that is changing the landscape. "The jewelry industry is shifting to a type of jewelry art – putting a value on handcrafted goods," says Stuart Freedman, President of Fire Mountain Gems. "Jewelry that tells a story and has a personalized meaning to the designer or the wearer is one of the most dominant trends that will continue over the next year".
Miller is experiencing this first hand with her own creations. What began two years ago as a local art show of her new jewelry collection developed quickly into a full-scale on-line retail and wholesale business. Through SKM Artworks, she has created a collection of meaningful handmade wearable art created by weaving stunning jewels and precious metals within Irish waxed linens and certified-green leathers...rustic and spiritual with a luxury twist. Aside from gorgeous gemstones, Miller incorporates elements of interesting antiques and artifacts.
That's because she understands that art is more than a visual experience. It is also about the values, perceptions, and even dreams of the people who make it and own it. Therefore you'll find that all of the works produced by SKM Artworks reflect many of Miller's own core values:

A love of nature and an appreciation for multiculturalism - which is why her pieces have such an earthy spiritual feel. "The waxed linens and natural leathers I use add to the organic feeling of SKM in an incredible way. They provide an amazing backdrop for the stunning colors and the spark of the gemstones and precious metals I use". Focal points inspired by diverse world cultures, religions and history are incorporated in various ways. The contrast of these differing materials used together create a striking and unique statement offered in a way that can be worn in any setting.
A passion for hand woven textiles. "After coming across a pattern for a crochet choker I became hooked (excuse the pun) on weaving jewelry. I started experimenting with all kinds of materials and began the journey of figuring out how I would join the craft of crochet with the art of jewelry making. Once I saw the possibilities, I worked obsessively to develop the techniques that would become my signature."
A focus on social contribution. A major focus of Miller's artistic endeavors is the use of her art as a way to help causes that are important to her. SKM artworks recently donated countless hours developing a signature sterling silver pendant (to be unveiled in early November) for use in not-for-profit Kula for Karma's fundraising endeavors. Miller is also known for using green and sustainable materials whenever possible.
The importance of keeping art accessible to everyone. Just because it is art doesn't mean it has to be cost prohibitive. SKM's creations utilize a striking spectrum of beautiful gems and precious metals, but Miller specifically chooses materials that provide great values as well as beautiful looks.
Jewelry as an art form. "It's important to continue raising awareness of jewelry as wearable art… one that can express individuality while elevating its owner by providing a meaningful connection - whether it be to the artist, to nature, spirituality, history, or to a sense of social contribution.
"Art jewelry tells a story you won't find in a mass produced item. And the best part, it can go with you wherever you go", Miller says. "As an artist, there is nothing more gratifying than seeing those who choose my work experience that connection to something I've created. It's a great time to be a jewelry artist, when people are open to wearing what speaks to them rather than what they think they are supposed to wear; and with so many exciting jewelry artists around today, so many styles abound everyone can find something meaningful for them."
"As I continue to evolve as a jewelry artist, so will my work", Miller concludes, "and I look forward to seeing what my pieces will be about a few years from now. I create based on what is inside me, not what's on the runway, but it's nice for jewelry artists to be part of a trend where jewelry buyers are increasing their knowledge and appreciation for the work we do."
This unique collection is currently available at http://www.shopSKM.com and various exceptional east coast boutiques and jewelry stores. Retail prices for SKM's necklaces range from $89-$299; earrings, $45-$125; bracelets $59-$199.
###