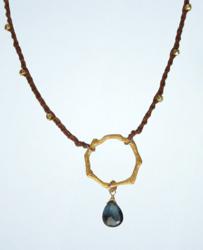 We're so excited by what SKM Artworks is offering us.
Franklin Lakes, NJ (PRWEB) October 31, 2011
As a 30 year industry veteran competing in one of the most challenging and prosperous markets in the world, Richard D'Errico is always looking for something special for his customers. "People who come to D'Errico Jewelers are pretty sophisticated in terms of their sense of fashion, style, and value," Richard says. "That's why we we're so excited by what SKM Artworks is offering us."
D'Errico's is known for its custom design, but the company also works hard to find up-and-coming jewelry artists and showcases their work. As a leading jeweler in the region, D'Errico has two locations; one on Scarsdale, NY's famous Central Avenue, the other on 159 Main Street, Mount Kisco, NY. SKM Artworks' jewelry will arrive at the company's Mount Kisco store early November. Store manager Allison Kadanoff recommended that the retailer take on the line.
"I liked the mixed materials she uses, which are the kind of things you see in fashion magazines. It's something I think that will appeal to a wide variety of women, and it's something they would be excited about," Kadanoff says.
Some of the items that will be on display at D'Errico include hand-woven Irish waxed linen necklaces such as "Gold Rush", "Casbah II", "The Family Tree", "Infinity Plus One", and the "Cubes and Spheres Collection" – all available with coordinating but not matchy matchy earrings. Several of SKM's hand-woven natural leather bracelets will also be available such as the "Edgy Princess Cuff" and the "Wonder Woman Cuff". Also look for the "iHug Wristhugs" – a great little gem encrusted bracelet of which 20% of the proceeds benefit the iHug Foundation.
"I really appreciate the time and attention D'Errico is investing in SKM and I'm excited to begin working together. It's also great for my existing Westchester customers who have told me how happy they are to have a place close to home where they can purchase SKM Artworks. Having an on-line shop is great, but having a presence in a store like D'Errico is key since people really love to experience jewelry in person - to see how it looks and makes them feel", Miller says.
Miller hand crafts her items using creative techniques that she developed to merge the craft of crochet with the fine art of jewelry making. By carefully choosing the gems she works with, she has managed create a line that has striking visual appeal, amazing stylistic flexibility, and a unique look that stands out in any environment.
"By designing jewelry that is sophisticated, fun and unique, I think SKM Artworks is perfect for woman searching for that signature "it" piece that can take them through their day and into the night, as well as for gift givers hunting for that distinctive handcrafted find," Kadanoff says.
###