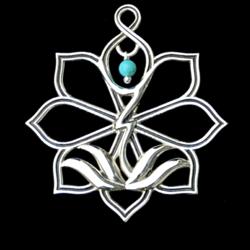 We absolutely love Susan. She is an artist with extraordinary vision and an open heart.
Franklin Lakes, NJ (PRWEB) November 30, 2011
Susan Miller, the owner/artisan behind SKM Artworks, and Geri Topfer, founder and President of Kula for Karma, met by chance last year at a Holiday boutique showcasing Miller's jewelry - a collection of meaningful wearable art created by weaving stunning jewels and precious metals within Irish waxed linens and certified-green leathers...rustic and spiritual with a luxury twist.
Topfer's immediate response to the energy of Miller's work moved her to ask the artist to design a signature necklace for Kula for Karma while in the midst of purchasing several pieces for herself. "Of course I was thrilled by the idea" Miller stated. "I knew of the great work Kula does and loved the prospect of helping them".
Kula for Karma is a 501(c)3 nonprofit organization that offers therapeutic yoga, meditation instruction and stress management support services - at no charge - to those who have been challenged by difficult circumstances, including illness, addiction and abuse. Many of the people they serve would not otherwise have access to these therapeutic interventions.
Miller's own social work background ensured that SKM would have a purpose greater than exclusively offering beautiful hand woven jewelry. "Philanthropy is a major focus for us which is where my social work roots come to light" says Miller. Since opening in 2010, the company has supported many local NJ charities in addition to donating proceeds from one of her creations, the iHug Wristhug, to the iHUG Foundation. Helping Kula develop their signature piece was a natural progression for SKM's giving.
Miller and Topfer collaborated along side Kula's executive director Penni Feiner and Gala Committee co-chair Donna Wuhl. Their intent - to create a beautiful uplifting piece, embodying the spirit of the organization, incorporating their new logo, yet designed with wide appeal. The resulting sterling silver openwork pendant, grounded by Kula's stylized figure rising out of a lotus flower, succeeds on all counts. "We absolutely love Susan. She is an artist with extraordinary vision and an open heart" comments Feiner. "She gracefully included us in her creative design process inviting us into the inner sanctum of her studio to 'Ignite' magic!"
"Everyone brought so much to the table. I think it was Penni who had the idea to use a gem as the figure's head which I interpreted as a wire wrapped gemstone bringing the piece to life as it moves" adds Miller. Currently, the pendant (44mm x 40mm) is available in sterling silver with 6 semi-precious gemstones options and 3 hand-woven chain styles accommodating several price points and wearer individuality.
Naming the piece "Ignite", further aligns it with Kula's intention to empower those on their healing journey. Kula's tag line, "Igniting the human spirit through yoga" reaches both their community of volunteer teachers and the populations they serve. Topfer comments, "We encourage people to tap into their passion and turn it into action by donating their talents and appreciate Susan for doing just that. We love that people wearing her piece will become agents for social change and help Kula for Karma grow."
"Ignite" was unveiled to rave reviews at Kula for Karma's 4th Annual Fundraising Gala on November 4th. "It was truly gratifying to see such a positive response to what we had created. Working with these amazing woman and supporting a great cause is really it's own reward. As an added bonus, this project inspired me to stretch my own artistic limits while bringing the Ignite pendant from concept to production... skills that will absolutely take SKM Artworks to new places I am excited to go."
The icing on the cake for Miller was that the honoree at the Gala (winner of Kula's Angel Award) went to Dr. Andre Goy, coincidentally her father's oncologist and Director of the John Theurer Cancer Center of New Jersey's Hackensack University Medical Center where Kula offers many programs to cancer patients.
Ignite is available for purchase at http://www.shopskm.com and http://www.kulaforkarma.org. If you are interested in volunteering your time or inquiring about Kula's services email info(at)kulaforkarma(dot)org.
###