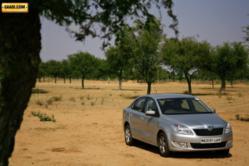 Gaadi.com Reports - Skoda Rapid
(PRWEB) April 13, 2013
The all new Skoda Rapid that will hit the Indian roads in 2013 and fill in the price void in absence of new major launches within the particular segment; reports Gaadi.com, India's leading online portal for posting the particulars about used and new cars, rolls out.
The release of the new Skoda television commercial displaying a title that reads as 'Driven by Excellence' indicates the youthful spirit and excellent design contours of this luxurious sedan. The car reflects a Indian youth's affinity and continuing strive for excellence. While the ad indicates the aggressive marketing that Skoda has planned for this sedan, the Industry pundits on the other hand refer Skoda Rapid similar to Volkswagen Vento in terms of interior looks.
Rapid is powered by a 1.6 litre diesel engine that provides thrust, which is much more than many other cars in its segment. In terms of grip, the sedan is designed with a perfect aerodynamic shape that makes driving quite comforting and relaxing especially on the long-distance highways.
As far as the interiors are concerned, Skoda Rapid's two-tone interiors are quite similar to Volkswagen Vento. Its Seats are comfortable and the rear seat offers ample space that makes the driving experience enjoyable. However, boot space has a concern as the sedan offers only 460 litres of boot space which is lesser than some other cars in the category.
Gaadi.com investigates that sales trend for this C2 segment sedan offers some hope to Skoda as it is becoming favourable in recent months. Today, there is a growing trend among upper middle class to shift to SUVs and premium cars. Rapid is in fact the only brand from Skoda that is providing it volumes and from that perspective, Rapid is quite vital for Skoda. So a facelift of the European Rapid could provide Skoda India the much needed leverage within the Indian car market.
Complete specifications, features, in-depth expert as well as user reviews along with some amazing pictures of the Skoda Rapid can be located on a detailed page unveiled by Gaadi.com.
About The Company:
Gaadi.com is the leading online automotive marketplace that brings car buyers and car sellers together. New car buyers can research their car purchase while used car buyers can browse through the largest collection of inventory online. Serving as the best resource for new car research in India, it provides users with information, opinions & tools that ease the process of finding a suitable car. The used car marketplace of Gaadi.com is the best in online space with a comprehensively curated and photographed stock of used cars. It provides a transparent and reliable platform for used car listings with detailed information for used car buyers.
Visit http://www.gaadi.com/Skoda-Rapid to know more about Skoda Rapid at Gaadi.com