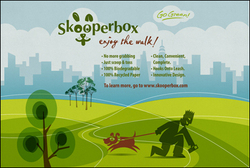 Once people hear about Skooperbox, they scoop them right up as they quickly become aware of the incredible environmental impact the Skooperbox makes, not to mention the ease and convenience that it also brings
Los Angeles, CA (PRWEB) July 25, 2007
After extensive review, testing and market research, Skooperbox™ was chosen to partner with the Home Shopping Group (HSG) in launching a Direct Response Television (DRT) campaign. The campaign will feature a 60-second direct response commercial featuring the amazing new Skooperbox™.
The DRT commercials promoting Skooperbox™ will run on major U.S. television and cable networks, including ABC, CBS, NBC CNN, TNT, TLC and E! Entertainment. In addition, HSG will work with Yahoo! Shopping to launch a mass e-mail campaign promoting the Skooperbox, which will target more than 500,000 "opt-in" HSG customers and other consumers in what is the largest growing retail area nationwide: Pet Products and Natural/Organic Products.
The HSG commercials will air in two (2) designated major metropolitan market areas -- which are yet to be decided. The commercials will air a combined minimum of 100 times, approximately 50 airings per market. The commercials will only air between the prime hours of 6 a.m. and 12:00 midnight.
HSG is a preferred marketing vehicle for many major corporations, offering direct response marketing to companies who want to promote their products for maximum visibility and exposure to consumers. Skooperbox has received a sizeable purchase order from HSG and product is set to ship. HSG will warehouse the Skooperbox packages to re-sell and direct ship to customers.
"This is just one segment of the Natural/Organic Pet Marketplace that Skooperbox plans to be a part of. With only a very small percentage of the overall market utilizing the benefits of our cutting-edge product, we still have more than 90 percent potential market penetration. In an industry that expects to top 16 Billion by year's end, we are pleased to be a part of this," says Gustavo Zarate, V.P. of Marketing and Sales.
"The response to Skooperbox has been tremendous," says Sales Director Ryan Casey as he describes the torrential flood of sales due to a recent article in the Washington PostBrush Up on Your Dog Park Etiquette, which highlights the benefits of using the Skooperbox. "Once people hear about Skooperbox, they scoop them right up as they quickly become aware of the incredible environmental impact the Skooperbox makes, not to mention the ease and convenience that it also brings," says Casey. Whereas most plastic bags take hundreds of years to break down, the Skooperbox completely Biodegrades in a matter of days.
Y-DITT, LLC., is an innovative marketing company and an expert in creating leading socially and environmentally aware brands for consumer products and health and safety products. The centerpiece of the company is the Skooperbox™ line that reflects the company's environmental spirit. The company was launched in 2005 and is located in Placentia, California. For more information, please visit http://www.skooperbox.com.
About Home Shopping Group:
Located in the Arvida Park of Commerce in Boca Raton, Florida, The Home Shopping Group is a world leader in innovative Direct Response Television Campaigns.
###